World-renowned chef, author and Emmy winning television personality Anthony Bourdain visits Libya in the next episode of "Anthony Bourdain: Parts Unknown," airing Sunday, May 19, at 9 p.m. ET. Follow the show on Twitter and Facebook.
Fried dough is arguably a universal language. There are about as many ways to enjoy sfinz - a spongy, light (albeit fried) pastry eaten across the Middle East and North Africa - as there are variations and even spellings.
In Libya, it's sfinz. In Morocco, it's sfenj. In Tunisia, yoyos; and in Italy, sfinge. (Leptis Magna, on the coast of Libya, was once a highly prominent city of the Roman Empire; it's also an UNESCO World Heritage site.)
This week, Anthony Bourdain travels to the North African country that is still trying to find its footing after long-term ruler Moammar Gadhafi was overthrown by an uprising in 2011.

"Revolution has brought changed tastes. Libyans, especially young Libyans, hunger for more than just freedom," said Bourdain before visiting Uncle Kentaki, an obvious knock-off of KFC. (American fast food franchises did not exist under Gadhafi's regime.)
During his travels in Tripoli, Bourdain enjoys the aforementioned Libyan breakfast delicacy of sfinz. In the below variation, an egg dough is leavened with baking powder instead of yeast.
Crack an egg into it while it fries for a savory breakfast, or dip it in warm honey if you're feeling like something sweet.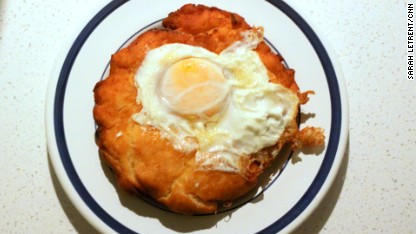 Sfinz (sometimes written as "sfenz")
Adapted from recipe courtesy of Vivienne Roumani-Denn
2 eggs, beaten
2 Tbsp sugar
2 Tbsp olive oil
1 tsp baking powder
1 cup flour, plus more as needed
1 Tbsp water
Canola oil for deep-frying
Optional: Extra egg for topping
Mix all ingredients (except the canola oil and extra egg) together and knead into a smooth but slightly sticky dough. Add more flour if the dough is very sticky. (Lightly oil your hands to prevent the dough from sticking to them as you work.)
Form the dough into ball, then work and flatten it like a pizza crust into the shape of a plate (the edges should be slightly thicker than the center, about 1/2-inch).
Heat the canola oil over moderate heat until it is hot, then reduce heat to low. Carefully add the dough to the oil and fry until golden on both sides and cooked through, about 2 to 3 minutes.* Transfer with a slotted spatula to paper towels to drain. If desired, drizzle with honey while still hot.
*To make an egg sfinz, flip the dough in the oil after the center rises. Crack an egg into the middle; spoon hot oil over the egg with a metal spoon to set and cook until golden-brown.