World-renowned chef, author and Emmy winning television personality Anthony Bourdain visits Los Angeles' Koreatown in the next episode of "Anthony Bourdain: Parts Unknown," airing Sunday, April 21, at 9 p.m. ET. Follow the show on Twitter and Facebook.
Roy Choi created a brave new world of gastronomy almost single-handedly with his Los Angeles-based Kogi BBQ taco truck.
A Korean-American who grew up on the fringes of Mexican and hip hop culture, Choi's food reflects a new American idea of natural fusion - culinary influences that grew up next to and with each other.
In this episode of "Parts Unknown," Anthony Bourdain examines the meeting point of Asian, Latino, Mexican and even Bangladeshi culture in modern L.A. Koreatown.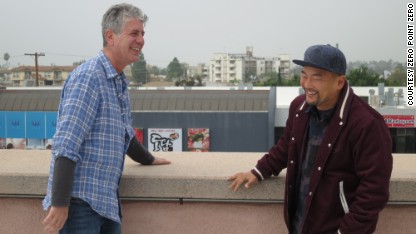 Choi recently talked with CNN about his culinary vision and the bond between food and cultural identity.
CNN: You broke some boundaries when you combined the traditions of Korean barbecue with Mexican street food. Did you get any push back about being "unauthentic"? Does that matter?
Roy Choi: We were honest in our food and our voice. It's as much L.A. as anything else is. I am from here and this is our sound. We owed nothing to anyone's perception of authentic. We just taste like L.A. and L.A. is a mix of many cultures and taking chances.
CNN: What do you want to communicate about your culture through your food?
Choi: That we are not ethnic.
I don't understand "ethnic" because who is it that is using that word? Is it coming from an English-speaking state of mind and if it is, then how did we as so-called "ethnic populations" become something to be labeled? No one culture is the norm so no one culture therefore is ethnic. We are not different, we are all different, but we are all human and no one culture is the center.
CNN: You were classically trained as a chef and worked at lauded restaurants like three-star Michelin Le Bernardin, what made you go back to your roots?
Choi: I never left my roots, I just didn't know my roots were good enough to be my profession. We get caught up sometimes on a journey to become more educated or enlightened, not knowing sometimes the strength is right where you come from. But sometimes you need that journey to supplement your roots with knowledge and training, and that's what happened to me. I gained training then I finally saw how to apply that to who I truly am.
Explore Anthony Bourdain's favorite places to visit in Los Angeles:
Koreatown Plaza
928 South Western Avenue, #300
Los Angeles, California
(213)-382-1234
Hannam Market
2740 W. Olympic Blvd
Los Angeles, California
(213)-382-2922
Beverly Soon Tofu Restaurant
2717 W. Olympic Blvd, #108
Los Angeles, California
(213)-380-1113
A-Frame
12565 Washington Blvd
Culver City, California
(310)-398-7700
Chego! (re-opening in new location in mid- to late April)
727 North Broadway
Los Angeles, California
Twitter: @EatChego
Kogi BBQ Truck
Location varies; weekly schedule listed on website.
Twitter: @kogibbq
Swadesh
4153 W. 3rd Street
Los Angeles, California
(213)-386-7799
Dong Il Jang
3455 W. 8th Street
Los Angeles, California
(213)-383-5757
Sizzler
400 S. Vermont Avenue
Los Angeles, California
(213)-387-1647
Monte Carlo Bar
3514 W. 3rd St
Los Angeles, California
No phone.
Myung In Dumplings
3109 W. Olympic Blvd
Los Angeles, California
(213)-381-3568
Julie's Taco Truck
In front of the Vons on 3461 W. 3rd Street; near the northeast corner of Vermont Avenue and W. 3rd St.
Los Angeles, California
No phone.
California Donuts
3540 W. 3rd Street
Los Angeles, California
(213)-385-3318
Jollibee
3831 Beverly Blvd
Los Angeles, California
(323)-906-8617
Dive into the food that Bourdain and guests enjoy in the episode:
Ban chan
Also called "pan chan" - these are pickled, dressed or preserved vegetables, sprouts, kimchi (spicy, fermented vegetables, usually cabbage, that are a staple in Korean cuisine), small fish, mushrooms, tofu and other little snacks that accompany the larger courses. As Bourdain says, "No ban chan, no meal."
Korean barbecue
Gogigui - more commonly known in the U.S. as "Korean barbecue" - is a style of meal in which diners gather around a central grill (often built right into the table) and cook meat and vegetables. Roast gui - thinly sliced, marbled ribeye - is a specialty of Dong Il Jang (which Bourdain and Choi visit in the episode), as is the more common bulgogi, which is beef marinated in soy, sesame oil, garlic, scallions and other ingredients. Galbi, made with marinated ribs, and seafood are other standard options.
There are many variations, but usually patrons or waitstaff grill the meat, then each diner places some on a lettuce leaf in the palm of his or her hand, tops it with kimchi, rice, chili bean paste (or any combination thereof), rolls the leaf into a little sandwich and eats it. Other people skip the lettuce process altogether and just enjoy the meat and rice.
Kimchi fried rice
Bokumbap (or "bokkumbap") is not fancy, but it's filling, economical and fantastic. At Dong Il Jang and many other places, after the meat has been cooked, rice (usually day-old) and kimchi and other vegetables go into the same pan for frying. It just "melts into the pan like paella" says Bourdain, and develops a crunchy outer layer that's "ridiculously good."
Korean tacos
Bourdain calls these "one of the great mutation mash-ups" of L.A. food culture. Choi melded a traditionally Mexican format - the corn tortilla-wrapped taco - with traditional Korean fillings like bulgogi and kimchi to create the now iconic and often-imitated Korean taco. Choi's Kogi BBQ Taco Truck brought the cross-cultural treat to the streets of L.A., and now they can be found on menus across the U.S.
Sundubu
In layman's terms, this is tofu soup. In Bourdain's world, it's a "fiery, tongue-searing, ass-burning soup that will make you forget every bad thing you've ever thought about tofu." It's a spicy red broth with a soft tofu base, and versions vary from there, but often include kimchi, as well as beef, oysters, mussels or clams, and an egg cracked and added tableside. Spoon it over rice and feel your insides catch fire.
Rice bowl
For $10 or less, a hungry diner can jam down a big bowl of rice with meat, vegetables and "a whole lot of flavor," per Bourdain. Choi's soon-to-relocate Chego restaurant features a Spam bowl with fried rice, scrambled eggs and baby bok choy with a touch of butter and toasted sesame, as well as a version with marinated grilled chicken, fried egg, Chinese broccoli, sour cream sambal, Thai basil, sesame and red jalapeño.
Lahori fish curry
It's not just bulgogi and tacos - Little Bangladesh occupies several blocks within Koreatown, and with it comes goat stew, samosas, tandoori chicken and fragrant, chili-spiked Lahori fish curry eaten over rice and with folds of flatbread.
Spam sandwich
The classic tinned meat plays a major role in Filipino cuisine, finding its way onto morning egg and rice platters, then slipping into sandwiches later in the day. The popular Jollibee fast food chain features a fried Spam sandwich, as well as pineapple-topped Aloha burgers, fried bangus fish, spaghetti, noodle platters and a dessert of tapioca pearl tea or halo-halo.
Halo-halo
We'll let Top Chef contestant Dale Talde field this one. He says, "This is my favorite Southeast Asian dessert that is essentially shaved ice. Halo-halo is the Filipino name of it and there are variations in a handful of Southeast Asia countries (Air Batu Campur or ABC in Malaysia, for example).
Instead of blueberry-flavored high fructose corn syrup (commonly served at roadside snow cone carts in the U.S.), Filipinos use fresh fruit like mangoes, jack fruit, lychee, avocado and young coconut, then tie the whole thing together with sweetened condensed milk and top it off with puffed rice."
Execution varies wildly, and may include any sweet ingredient from flan and tapioca pearls to gelatin cubes and fruity cereal.
Dumplings
Wang mandoo (or mandu) are thick, massive dumplings stuffed with pork, kimchi and vegetables, then crimped and steamed to the point of softness. At Myung In Dumplings (which features both Chinese and Korean offerings), smaller mandoo are more loosely wrapped with a thinner dumpling skin and served with chili paste, and steamed buns with red bean paste make a sweet end to a carb-centric meal.
Read more:
Los Angeles food trucks are in it for the long haul
Bridging generations and cultures, one blistering bowl of bibimbap at a time
Sundays are for dim sum
8 things to know about L.A.'s Koreatown
The ever-changing flavor of L.A.'s Koreatown