5@5 is a food-related list from chefs, writers, political pundits, musicians, actors, and all manner of opinionated people from around the globe.
Jacob Griffin doesn't want maple syrup to be stuck as a pancake staple; there's a lot more sweetness to tap.
Griffin is the chef at The Farm Stand Cafe at Madava Farms, an organic maple farm in New York's Hudson Valley that is the home of Crown Maple Syrup.
Five Unlikely Uses for Real Maple Syrup: Jacob Griffin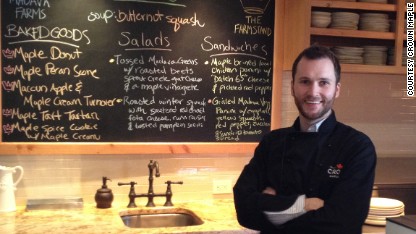 1. Sweet mornings
Instead of sugar, add maple syrup (preferably of the dark amber variety) to your morning coffee, tea or to top your latte.
2. Savory/sweet balance, always
Too often, sweetness and balance are forgotten and neglected in savory cooking, but where there is spicy, tangy, umami and acid, there should be sweet. Two of my favorite ways to incorporate maple syrup into savory cooking is with meat rubs and salad dressings.
When making an herb or spice rub for a pork chop, whole chicken or steak, add some maple syrup to not only lend that sweet balance, but also to help hold your herbs and spices to the actual meat and to aid in caramelization.
For salad dressings, use maple syrup in place of sugar or honey; you'll be the belle of the salad ball.
Watermelon Radish and Citrus Salad with Maple-Sherry Vinaigrette
Makes 4 servings
For the dressing:

3/4 tsp

Dijon mustard

1/4 cup

sherry vinegar

1 1/2 Tbsp

maple syrup (dark amber recommended)


1 tsp

apple cider

1/3 cup

extra virgin olive oil

1/3 cup

canola oil
For the salad:

Make the dressing ahead of time by combining the vinegar, Dijon mustard, maple syrup and cider in a bowl or blender. Slowly whisk or blend in the olive and canola oils. Season with salt and pepper. You can adjust the bite or the sweetness of the vinaigrette by adding additional Dijon or maple syrup.
For the salad, cut segments from the citrus fruits. Slice the watermelon radish into thin whole slices. Toss mesclun with the radish, onion, citrus and dressing. Top with shaved Toussaint or your favorite Parmesan. Serve immediately.
3. Syrupy health and beauty
Several studies over the last few years have shown that maple syrup can help combat adult acne and rosacea. Ingesting maple syrup can fight these skin issues, but direct topical application helps as well. Needless to say, real maple syrup is key here - only the pure stuff! Combine with other natural and organic ingredients for a daily or weekly scrub or mask, or use straight maple syrup when needed.
4. Craft a cocktail
Maple syrup gives a depth of flavor and richness of texture when a sugar cube or simple syrup just won't cut it. Try 1/2 ounce of maple syrup in place of that sugar cube in your Old Fashioned or Mint Julep; replace the sugar with maple syrup in your Sazerac; or just squeeze a few drops of maple syrup into the bottom of your champagne flute.
5. Use it in a pickle
Maple syrup can be used to make flavorful and complex pickled vegetables. Add maple syrup to your pickling brine with chiles de árbol or red pepper flakes for amazing sweet-and-spicy pickled cauliflower, carrots, gherkins or onions.
Is there someone you'd like to see in the hot seat? Let us know in the comments below and if we agree, we'll do our best to chase 'em down.
Previously in syrup-related news:
How waffle! Thieves snatch millions of dollars worth of maple syrup
Rhode Island man gets sticky sentence for phony syrup
MAPLE Act would sting syrup fakes