One of a bagel's greatest virtues is that it's a single serving of fresh-from-the-oven bread, baked just for you.
Even better: if you do the baking yourself, there's usually at least 11 more just like it cooling nearby, creating a perfect excuse for a weekend get-together.
Bagel lovers, especially New Yorkers and people of Eastern European descent, have strong opinions about what makes a bagel great - or not so great.
For the owners of Surfside Bagels in Far Rockaway, New York, the hand-rolled boiled and baked bread should be dense and chewy. Its exterior, shiny; its interior, yeasty but not too sweet. Fortunately, they're willing to spread their knowledge.

Plain Bagels
(Recipe adapted from Surfside Bagels; makes about 12-18 bagels depending on size)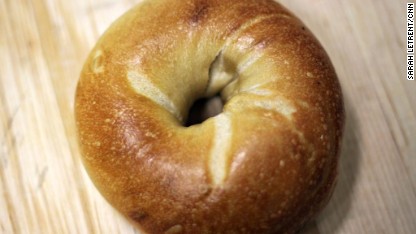 2.5 lbs (approximately 9 cups) flour
1 cup warm water (about 100-110 degrees Fahrenheit), plus more as needed
1/2 Tbsp active dry yeast
1/2 cup brown sugar
1 tablespoon barley malt syrup (can substitute molasses)
4 teaspoons salt
Optional: dough conditioner
Dissolve yeast in the tepid water until foamy, about 5 minutes. In a stand mixer with the dough attachment or by hand, mix the remaining ingredients until the dough comes together. (If the dough is too dry, add a little more water. If the dough is too sticky, add a little more flour.)
Cover the dough with plastic wrap and let it rest for 10-12 minutes. This will allow the bagels to expand but not overwhelmingly so; the plastic wrap also helps prevent a skin from forming.
Meanwhile, preheat an oven to 400 degrees Fahrenheit, and line a baking sheet with parchment paper.
After the resting period, the bagels are ready to roll. Divide the dough into pieces of equal size (about 2 to 3 ounces each). Roll each piece of dough on a floured work surface into a ball, then each ball into a rope that is long enough to wrap around three fingers (about 6-8 inches). If the dough isn't pliable enough, slightly wet your hands or the work surface.
Wrap the rope around your hand and join the ends together. Roll the dough in the palm of your hand across the work surface to seal off the ring shape. Place on the baking sheet and repeat with the remaining dough. Again, cover with plastic wrap to prevent a skin from forming.
Bring a pot of water to a boil. In batches, boil the bagels; they're ready when they float, about 1 minute. Using a slotted spoon, place the bagels back on the prepared baking sheet.
Place the baking sheet in the oven. Bake the bagels for 5-10 minutes. Flip the bagels and cook for another 20-25 minutes until they reach your desired level of brownness.
Remove from the oven and cool on a wire rack.
Note: With Passover just around the corner, bagel making is a good way to use up flour before all chametz must be stripped from the home.