Diana Prichard lives and works at the intersection of the alternative food movement and the reality of modern agriculture and believes that a finer-tuned food future is possible without all the in-fighting. She operates a small, niche pork operation; running a few hundred hogs per year in the heart of Michigan's farm country. You can follow her story at RighteousBacon.com, Twitter and Facebook.
I'll never forget my first agriculture conference. I carefully selected the sessions I wanted to attend and made sure I arrived at the one and only panel dedicated to women in ag early. I picked a seat, pulled my favorite pen and a trusty notebook out of my bag and got ready for what I assumed would be an education-filled hour.
And I suppose, in hindsight, what followed was an education - just not in the way I'd expected.

I will never get back the sixty minutes of my life I spent in that room and all I have to show for it is the knowledge of how a couple dozen women met their husbands. Or, as they were lovingly referred to that day, "their farmers." I suppose I could have shared a video of my own birth to shake things up a bit. That is, after all, when I met myself, but at the time all I could muster was stunned silence.
The sexism wasn't new, of course. It was sitting in a room full of other women that I had wrongly assumed would understand it that caught me by surprise.
Prior to that conference and in so many instances since then I'd encountered regular discrimination in my pursuit of a career in the decidedly male-dominated field. I've been everything from subtly ignored to outwardly rejected because of my gender. I'm regularly made to prove myself before I'm taken seriously in situations where men can simply walk in and command the room. I've been told that women are too weak to run hogs and I've stood in front of a room full of men who refused to interact with me in what was supposed to be an interactive demo. I even had one man refuse money for products and services he regularly supplies others unless my husband approved.
On bad days I take my frustration out on fence posts and hog huts, anything that needs mending with a hammer or an axe. On good days I'm reminded that what does not kill me makes me stronger and I appreciate the thicker skin and wider perspective I'm afforded by these struggles. As a blonde-haired, blue-eyed Caucasian I figure even a rudimentary understanding of what it's like to be a minority is a gift.
And sometimes, on great days, when it's been a while since the last time I noticed the glass ceiling above me, I almost forget it's even there. Almost, until something brings it back to my attention; and something always does.
This week, that thing came as a surprise - even to me. When I first watched the Ram Trucks "So God Made a Farmer" ad during the Superbowl I reacted in much the same way I did during that first women in ag session, I sat in stunned silence. This time for much different reasons though.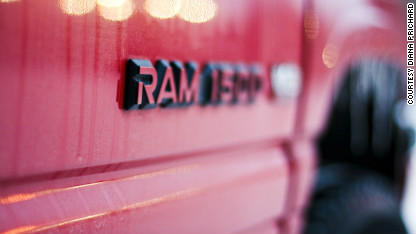 I, like so many farmers, was elated to see a major corporation taking such a prominent stand on behalf of one of the nation's hardest working industries. I didn't care that Paul Harvey was evoking a higher power that I don't worship or that only a couple of the people in the ad looked like me. After all, few people in the industry look like me to begin with.
In fact, it wasn't until Monday morning that I realized how strongly the sparse amount of diversity in the ad hit others. Across social media platforms women and minorities were asking where the farmers that look like them were, why weren't they adequately represented. Or, at least, why they didn't feel adequately represented.
My initial reaction was one of confusion, hadn't I seen a black farmer? A couple of Hispanic farmers? I knew for sure I'd seen a woman or three and a young girl. Sure, they weren't in every other picture, but in my experience women and racial minorities are not an everyday occurance in the industry either.
No sooner could I think it and review the ad to find out if I was mistaken than were my memories confirmed and then challenged on Facebook, "One black person, a couple latinos, and a woman does not represent the diversity of our farmers." one woman posted.
But does it?
According to the most recent Census of Agriculture my experience is not abnormal. White men still make up the grand majority of farm operators. Of the roughly 2.2 million farms in America 1.83 million or about 83% are principally operated by a Caucasian male.
I went back and counted the people in the Ram ad. Of the twenty five people pictured only about 68% were white males. Dodge over, not under-represented farming minorities and as I broke down the numbers further, I found they did so across the board.
Women, while only 14% of principal farm operators in the agriculture industry made up 20% of those depicted in Dodge's ad. Black farmers, while making up less than 2% of principal farm operators, made up 4% of the ad. And Hispanic operators, while making up less than 3% of principal farm operators in the industry, were pictured as 8% of the ad demographic.
Even farm workers are primarily male. As of 2010, men made up 84% of all hired farm workers and were present at a slightly higher rate, 87%, among hired farm managers.
Women and racial minorities do make up a minority part of Dodge's rendition of "So God Made a Farmer," but the Ram Trucks version of America's agricultural sector is not so far removed from the reality of our fields, barns, and feedlots. Rather than blasting the company for a rather accurate depiction of something that makes us uncomfortable, maybe our energy would be better directed elsewhere, such as on programs and campaigns that encourage more minorities to join the ag industry.
Maybe, instead of asking Dodge how dare they bring the decidedly white and male nature of our farms to our attention, we say, "Hey Dodge, next time you honor the people who feed us we want you to be able to accurately depict even more minorities, and we're going to do something to make that happen."
Do you feel the Dodge ad accurately represented the agriculture community? Should more be done to bring women and minorities into farming? We'd love to hear what you have to say in the comments below.
Previously:
By the numbers, how has farming changed since 'So God Made a Farmer'?
Opinion: My family farm isn't under "corporate control"
Farmers aren't evil. Now can we have a civil conversation?
What should a 'local' farm (and farmer) look like?
Who are you calling 'rich'? A small farmer shares some hard data
Forward-thinking farmers are preventing another Dust Bowl
What a farmer wants you to know about how beef gets to your plate
Start a conversation with a farmer