This is the seventh installment of "Eat This List" - a regularly recurring list of things chefs, farmers, writers and other food experts think you ought to know about.
Last week, I found myself hanging out with five whole hogs, three briskets and a whole lot of barbecue legends (and their faithful disciples) near some fire pits in freezing cold Murphysboro, Illinois. We'd congregated there for the second annual Whole Hog Extravaganza and BBQ MBA program, and when I wasn't stuffing my mouth with some of the best pork and brisket on the planet, I was slamming it shut and soaking up what these venerable pitmasters had to say.
Here's a taste.

1. Start with a cleaver, move to a hatchet, then resort to an axe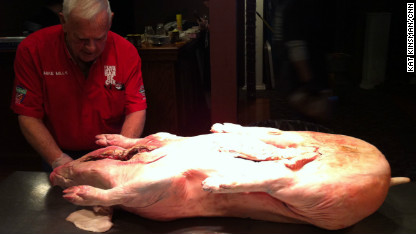 A whole hog is the Holy Grail for many barbecue fans, but sometimes it takes muscle to wrestle it into ideal position for smoking. The legendary Mike Mills of 17th Street Bar & Grill knows his way around a pig and its parts, and has been heard saying a time or ten that if barbecue was easy, everybody would be doing it.
This kind of barbecue takes patience. Start with the smallest tool possible to split the hog open, and only after you encounter resistance, do you start to add to your arsenal. This will pay off in the end.
As Mills said of whole hog barbecue, "It's not best value, but it is the best show. There's less cost for butts and shoulder, but there is no personality. When you serve a whole hog, everybody goes away talking about you. And it always leads to another one."
2. Hold off on sauce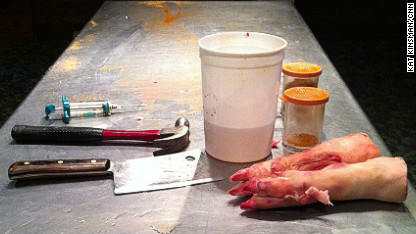 "I would a whole lot rather you taste the flavor of the meat before you put anything on it. Taste the time and energy that went into it," pleaded Sam Jones. He's the third generation of pitmasters from the Skylight Inn in Ayden, North Carolina, and like his father and grandfather before him, Jones believes the magic is in the meat.
There are no proprietary rub blends or secret sauces, just salt (not measured, but rather tossed on "like you're salting a driveway"), pepper, vinegar and a splash of Texas Pete hot sauce, then a mighty long time over woodsmoke. His hogs go in the pit at 4 p.m. and are tended every 30-40 minutes until midnight. They're flipped at 6 a.m., the crew comes in at 8 a.m., stages and serves the barbecue from 10 a.m. onward, and it's all wrapped up by 2 p.m. Then the whole process starts over.
Wayne Mueller of Louie Mueller Barbecue agreed wholeheartedly with this approach. "If people leave your restaurant talking about how good your sauce is, you failed," he said.
The Mueller family has been in the business of barbecue since 1949, and as far as Wayne and all his predecessors are concerned, all a brisket needs is pepper and salt (at a 9:1 ratio if you're taking notes) and again - a whole lot of time soaking up smoke.
3. Want to calm down a crowd? Serve 'em barbecue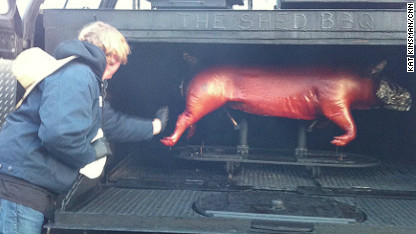 Passing out barbecue to terminally agitated New Yorkers at the annual Big Apple Barbecue Block Party is "like smoking the beehive," Mills said. "It makes them docile." He's not the only one who believes in the power of patiently-smoked meat to quell angst and build nations.
"Barbecue is a food that bridges class gap," said Jones. Per Mills' daughter Amy, barbecue is a taste memory that imprints on you from your very first bite, a culture rather than a concept, and it's also "friends, family and love."
It's "social, communal and loving," agreed Mueller, and he thinks it's about darned time it's getting its due. "Barbecue has now crawled out of the basement and has a proper place in American cuisine."
And it's also a great way to get to know the folks around you, believes Brad Orrison of The Shed (picture above, tending to a standing whole hog, smoking in a retrofitted truck), "Because not everyone has a redneck in the family."
4. Time is of the essence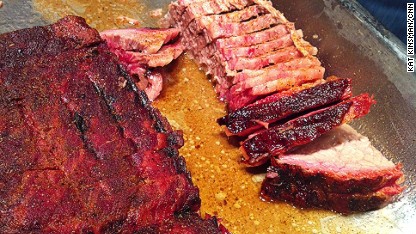 After all that buildup, Barry Sorkin of Chicago's Smoque BBQ says it's time to act fast. When you're serving brisket, cut it to order when possible, because it "starts degrading the second it comes off the knife."
If a customer is looking for a little razzle-dazzle with their brisket, "Give them a show," Mueller advised - and giving samples to slavering customers doesn't hurt. He believes in the power of the free morsel to amp up anticipation and win the undying loyalty of the thousands of people a year who make the pilgrimage to Taylor, Texas to pay homage to his family's craft. He'd almost left the business at one point (as did Jones), but in the end couldn't bear the thought of depriving his community of this decades-old institution.
Mueller joked, "It's just up to me not to screw it up." (And those are his hands pictured up at the top of the page.)
5. The best barbecue doesn't just feed your mouth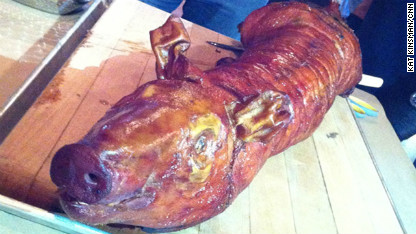 The crowd watched raptly as chef and competition pitmaster John Delpha deftly deboned a whole pig to roll up, stuff and smoke into a porchetta. "It's like my own form of therapy," he said. "I get to go into my own corner and no one bothers me."
To Delpha, the process of working so meticulously and intimately with a whole animal adds a grace note of gratitude, both for chef and eater alike. "You can't go into Kroger and buy one of these," he noted. "All this work makes you appreciate it so much more."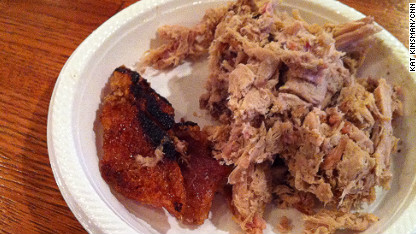 Sam Jones' whole hog barbecue and pig skin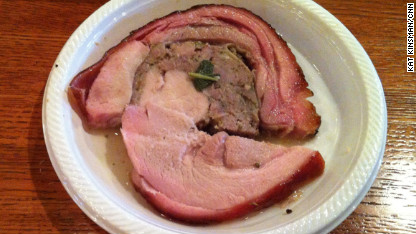 John Delpha's porchetta, sliced
Have you picked up some barbecue wisdom along the way? Please share it, low and slow, in the comments below.
Previously - Picking the pig, flipping the hog and Eat This List: 6 kitchen skills I have yet to master
More on barbecue
Images above were taken at the BBQ MBA seminar at 17th Street BBQ in Murphysboro, Illinois. Our managing editor spoke about social media for barbecue pitmasters, then got to sample five different styles of whole hog from pitmasters around the country. She's still in a pork coma.