Nearly two weeks into the year, most people's shiny, new resolutions have lost their luster. It's easy to slide back into comfortable old habits, routines and ruts, but we're here to combat that with a little personal challenge.
In my list of food resolutions for 2013, I suggested a monthly "Food Adventure Day," experimenting with an in-season ingredient you've never used before. They won't all be winners, but chances are that you'll end the year with at least a few new fruits or vegetables in the rotation.
As I wandered through Fei Long market in Sunset Park, Brooklyn, last week, stocking up on my usual baby bok choy, lotus root and taro, it occurred to me that while I've eaten countless bowls of take-out Chinese broccoli, I'd never actually cooked it at home. Into the basket it went.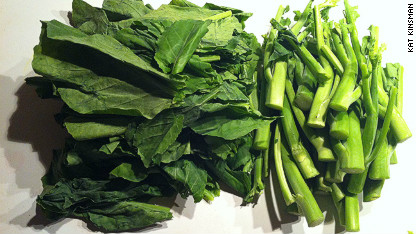 This leafy brassica goes by a bounty of names around the globe: kai lan, gai lan, pak kana, Chinese broccoli, Chinese kale, mustard orchid and white flowering broccoli. By any of these, it's nutrient-dense, delicious, and incredibly easy to cook.
Chinese broccoli is high in calcium, iron, vitamins A and C, and it's packed with flavonoids, which have beneficial anti-inflammatory properties. That would be reason enough to gobble it down by the bushel, but legendary cookbook writer Nigel Slater upped the ante by dubbing it "possibly the most delicious of all the cabbage family" in his vegetable manifesto, "Tender". He blanches the leaves in boiling water, then dresses them in a slick of oyster sauce, ginger and garlic to be served over fluffy, white rice kissed with coriander.
The method I settled on after reading a few dozen articles and recipes is even more stripped down and highlights the earthy, nutty, slightly bitter flavor of the greens. Many people simply steam the leaves whole and incorporate them into stir-fries. I pre-heated the oven to 350°F, then rinsed a large bunch of leaves in a colander to remove any grit and patted them dry.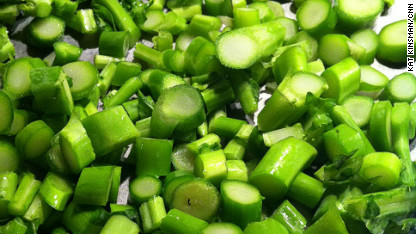 Next, I used my fingers to strip the tender greens and flower buds from the sturdier stalks, then chopped the latter into short segments. I distributed those in an even layer on a baking tray, tossed them in a very light coat of sesame oil and kosher salt and put them in the hot oven. While they roasted, I repeated the same oil and salt treatment with the leaves, and after five minutes slid them in the oven alongside the stems. When the leaves and buds began to brown around the edges, I pulled out both trays, stirred the contents together in a bowl and served it alongside fried duck tongues and a wild duck I'd acquired on the same shopping trip. The combination was quacking fantastic.
The beauty of this method is that the separation allows the stems to soften, but maintain a bit of bite, while the tender leaves and buds crisp up without burning. It's also a wonderful canvas for spice, sauce and condiment experiments. Splash on some soy, black vinegar or ponzu, or sprinkle five spice, cumin or flakes and rounds of your favorite chile while it's cooking. Try it sauteed over simple pasta, treating it like you would broccolini (which is a hybrid of Chinese broccoli and the broccoli so many of us grew up hiding in our napkins) or broccoli rabe.
If you're a fan of raw kale and can handle the bitter bite, chop it into small pieces, stems and all, and add it to your favorite mix of winter salad greens. The only limit is your ability to find it at local market. Pan-Asian groceries are your best bet, and make sure to have a chat with vendors if you're lucky enough to have a farmers market that stays open at this time of year.
Look for fresh, full leaves, stalks that don't have a hard, white center, and buds with a bare minimum of flowering. And hey - if it's not to your liking, February brings fresh fennel and a billion ways to enjoy bok choy, March rings in especially excellent endive, and before you know it, it's lychee and jackfruit season. The world is your oyster plant. Open wide.
Got questions or excellent advice on enjoying Chinese broccoli? Both are quite welcome in the comments below.