While you were scribbling down your 2013 resolutions, is there any chance you thought to include "Get really good at making cocktails"? Nope?
Well, the year is young and we're here to help: "we" being Turner's photography director Mark Hill and Greg Best, mixologist and partner in Restaurant Eugene, Holeman & Finch Public House and H&F Bottle Shop in Atlanta.
In a 62-33 vote, Louisiana House of Representatives declared the Sazerac to be New Orleans' official cocktail. It's a potent blend of rye whiskey, sugar, two kinds of bitters (including the city's native Peychaud's), lemon peel and a little hint of absinthe. For many years, that last one got in the way because it was banned in the United States. New Orleanians made do with Herbsaint - a kindred licorice-tasting pastis - until absinthe's legality was reinstated in 2007.

Even if you're a master home mixologist, there's always a little magic to be found in someone else's method. Follow Best's technique step-by-step in the gallery above and savor the spirit of New Orleans in your own home bar. We'll tackle even more classic sips in future installments.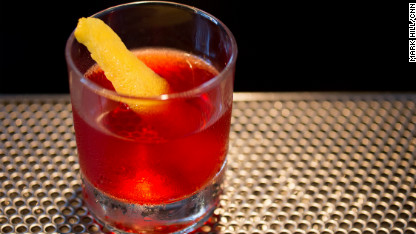 Greg Best's Sazerac
You'll need:
– Equipment (if you don't have these exact items, don't sweat it - but they're worth having around your house)
Old-fashioned/rocks/lowball glass
Mixing glass (a pint glass with sloped sides)
Muddler (in a pinch, use a wooden spoon)
Strainer
Bar spoon (a long-handled spoon that measures roughly a teaspoon)
Jigger
Peeler
– Ingredients
Ice
Sugar cube
Water
Peychaud's bitters
Angostura bitters
Rye whiskey
Absinthe
Lemon
Step 1: Chilling
Start by cracking ice with a muddler and filling a short glass with the cracked ice. Cracking the ice gives more surface area which results in a more even chill. Set this glass aside.
Step 2: Muddling
In a mixing glass, place a sugar cube and 1/2 ounce water and incorporate using a muddler. To this mixture, add 6 dashes of Peychaud's bitters and 2 dashes Angostura bitters. Next, use a standard jigger to measure out 2 ounces rye whiskey and add to the mix. Give this a quick dry stir (without ice) to make sure the sugar is fully dissolved.
Step 3: Rinsing
Back to the chilling glass. Add a bar spoon's worth of absinthe to the melting ice. Absinthe is very high in alcohol and adding it to the ice both brings down the alcohol and makes it sweeter. This is basically an absinthe frappé. Pour out this frappé mixture (a little something for the bar spirits) which will leave a coating on the inside of the glass to provide a subtle hint of a usually strong-flavored ingredient.
Step 4: Icing and straining
Add whole ice to the mixing glass and stir. This both dilutes the drink and brings the temperature down. Using a strainer, pour this into the chilled, absinthe-rinsed glass.
Step 5: Zesting, expressing and garnishing
Finally, carve a swath of lemon peel using a fruit peeler and run the peel skin-side down on your palm to open up all of the pores in the fruit containing the flavorful essential oils. Express the lemon oil over the surface of the drink by folding the peel in half lengthwise, then run the peel skin-side down around the rim of the glass to rub off any extra oils. Place the peel right-side up in the glass for a nice visual of the bright yellow peel against the classic red cocktail.
Got a cocktail you'd like to see made in detail? Let us know in the comments below and we'll see what we can shake up.