5@5 is a daily, food-related list from chefs, writers, political pundits, musicians, actors, and all manner of opinionated people from around the globe.
Ron Ben-Israel is rooting for you to use fresh ginger.
"It's spicy and peppery with a fresh, tangy flavor - and a snappy aftertaste," said the master pastry chef and host of Food Network's "Sweet Genius."
This knobby little root, which is actually the rhizome or underground stem of the ginger plant (Zingiber officinale), not only packs a serious aromatic punch, it has long been revered for its medicinal properties.
Here are five, gingery recipes to make in a snap this holiday season.
Five Ways to Use Fresh Ginger Root: Ron Ben-Israel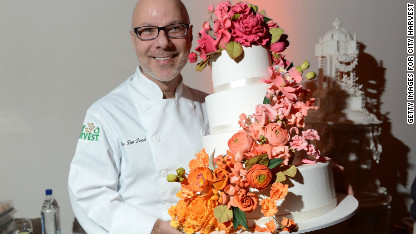 1. Candied ginger
"The following method describes the process of making candied ginger. I save the resulting syrup for drizzling over ice cream and yogurt, and for tossing with a fresh fruit salad."
Fresh ginger root
Granulated sugar
Water
Fresh lemon, sliced

Peel the fresh ginger root, and slice thinly.

Fill a measuring cup to determine the quantity of ginger slices - that would be the necessary amount of granulated sugar and water respectively.

Bring sugar and water to boil. Add the ginger slices and slices of lemon. Continue cooking on low heat for one to three hours. Fresh young ginger will cook faster, but older roots will require the longer cooking time.

Drain the cooked ginger slices and reserve the syrup for other uses.

Spread the slices over a cooling rack on top of a baking sheet and let drain overnight. (The process can be quickened by letting the ginger dry in a 200 degrees F oven.) Toss the candied ginger in granulated sugar or dip in melted dark chocolate.
2. Crystallized Ginger Shortbread
1 cup unsalted butter (2 sticks or 1/2 pound), room temperature
1/2 cup light brown sugar
1/2 teaspoon ground ginger
1/4 teaspoon cinnamon
1/4 teaspoon vanilla extract
1/4 teaspoon salt
2 cups all-purpose flour
3/4 cups finely chopped candied ginger
Pre-heat oven to 300 degrees F. In a large bowl, cream together (preferably with a mixer) the soft butter, brown sugar, ground ginger, cinnamon and salt.
When the mixture is light and fluffy, add the flour until just combined. Mix in the vanilla extract and candied ginger.
Roll out the dough between two sheets of wax paper until 1/4-inch thick, and freeze for 15 minutes.
Peel off the top layer of wax paper and cut shapes with cookie cutters or an inverted glass. Place each cookie two inches apart on the baking sheet. If necessary, gently gather and re-roll the dough scraps and cut out more cookies.
Bake 20 to 25 minutes or until pale golden. Cool on wire racks.
3. Ginger-buttermilk panna cotta
1 cup heavy cream
2 cups buttermilk
1/2 cup sugar
1 vanilla bean
Peeled and sliced piece of ginger root
Pinch salt
1 envelope of unflavored powdered gelatin (about 2 1/2 teaspoons)
6 small ramekins (4 oz each) or serving glasses
Non-stick cooking spray
Bring 1 cup heavy cream to a boil with 1/2 cup sugar, 1 split and scraped vanilla bean, the fresh ginger slices and a pinch of salt. Cover, turn off the heat, and let steep for 20 minutes.
Meanwhile, sprinkle powdered gelatin over 1/4 cup buttermilk. Do not stir. Let bloom for 5 minutes, and then stir thoroughly into the hot cream mixture.
Strain the cream mixture through a fine sieve into a bowl, discarding the ginger and vanilla bean. Add the remaining 1 3/4 cups of buttermilk and stir gently.
Spray the inside of 6 ramekins with the non-stick spray. Divide mixture into ramekins or unsprayed serving glasses. When cool, cover with plastic wrap and transfer to refrigerator.
Let the ramekins set for 8 hours or overnight, and carefully unmold onto dessert plates. Alternatively, chill the serving glasses for at least 3 hours and serve in glasses.
Garnish with a sliver of candied ginger and fresh mint.
4. Ginger Syrup
1 cup granulated sugar
1 cup water
1/2 cup coarsely chopped fresh ginger root (washed, unpeeled)
Place all the ingredients in a pot, bring to a boil, cover and lower heat to maintain a gentle simmer for 1 hour.
Strain the syrup through a fine sieve, let cool, and store in a glass jar in the refrigerator up to two months.
5. Ginger Ale
"Once you taste a real, freshly made ginger ale, you'll never be able to go back to the canned variety. The thick sugar syrup (it's a basic simple syrup with equal quantities of sugar and water) will last a long time refrigerated. It's very fragrant with a 'bite' to it. It's takes just a minute to pour a small amount in a glass and thin it with sparkling water for a refreshing, bubbly drink. No preservatives, no coloring, just the goodness of ginger!"
1/4 cup ginger syrup
1 cup sparkling water
Ice
Lime wedges

Pour syrup over ice cubes in a tall glass, add the sparkling water and a squeezed wedge of lime. Stir. (You can adjust the sweetness by adding more or less syrup in proportion to the sparkling water.)
Is there someone you'd like to see in the hot seat? Let us know in the comments below and if we agree, we'll do our best to chase 'em down.