Eden Grinshpan, hosts "Eden Eats" on The Cooking Channel. Read more about #Giving Tuesday
About six months ago, I found myself standing in the middle of the International Rescue Committee's New Roots community farm in the City Heights section of San Diego. It was there that I met Luchia, a refugee from Uganda who now lives with her daughters in City Heights. She is one of the strongest, most determined women I have ever met, so beautiful and proud.
She was there to meet me, show me her garden plot, and then, take me home to cook traditional Ugandan fare. When we met it was actually a little chilly out and her natural instinct was to wrap her arms around me, making sure that her scarf was wrapped around me too. Needless to say, it was an instant connection and she welcomed me within a heartbeat.
Over the past five years the IRC has been building its New Roots program – a program which connects refugees, newly arrived in the United States, with the land and helps them integrate into their communities. To date, the IRC has been able to establish community gardens and farms in 11 of the 22 cities where they help refugees restart the lives.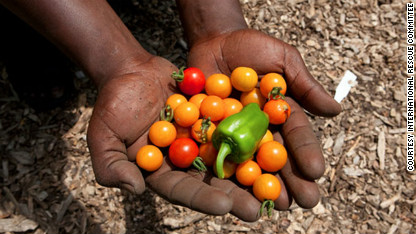 Luchia is one of 80 farmers now cultivating the land at the IRC's New Roots community garden in San Diego. What once was a vacant lot is now a thriving community farm where refugees from war-torn regions of the world are farming the land alongside community residents from countries like Vietnam, Mexico and Cambodia.
Here in City Heights, Luchia has one of the largest, lushest plots of land in the New Roots garden. She is the queen of the green. When it was time for her to show me her plot, she took the lead, kicked off her shoes and walked me down through the garden. The experience was so authentic and natural that I felt like I was transported back to Uganda with her.
Luchia showed me how to harvest collard greens and then took me into her home where we prepared a couple of staple dishes from her country, sautéed collard greens and ugali, a dish made out of maize flour, a staple starch in Uganda. It is a dish she is famous for within the garden. No one makes it like her.
While eating, she told me a little bit about her time back home and how happy she was to be living in the U.S. with her daughters. She doesn't have to live in fear anymore. You can just see how happy she is to be in the U.S., building her new life and getting the opportunity to grow, harvest and share her food with her family and with her new friends from the IRC.
I have spent many years traveling, living, learning, cooking and exploring countries and cultures in many parts of the world. I have a strong connection and love for other cultures so I was completely fascinated and hooked into what the IRC's New Roots program is all about. I have a show called "Eden Eats", on the Cooking Channel, which focuses on the stories and lives of immigrants and refugees who come from all over the world, seeing how they have re-created their lives and customs right here in America.
Food and all aspects of it are one of the easiest ways to stay connected to your culture and that is what the IRC is tuned into. New Roots gives refugees the ability to grow and harvest vegetables from the country they come from, allowing them to cook their own healthy food, hold on to their family recipes and sustain a healthy and more affordable lifestyle. These gardens have changed the lives of so many refugees that have come from all over the world and who now call the U.S. home. The garden gives the refugees the chance to stay connected to their roots in more ways than one.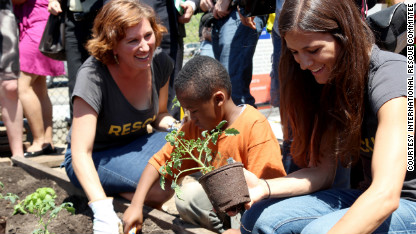 On #GivingTuesday and every day this holiday season, the IRC has made it so easy to give back and help out those in need. With "Rescue Gifts" you can give a symbolic gift to family and friends which supports the IRC's work both in the U.S. and around the world. A community garden kit ($60) can supply items like gardening tools and seeds that enable newly-arrived refugees in the U.S. to grow fresh and healthy food or a refugee farmer market kit ($135) which can provide a table, chalkboard, wooden boxes and baskets to help a refugee farmer bring produce to market. It may just change or even save a life this holiday season.
Learn more about #givingtuesday efforts on Twitter and follow the IRC and Eden
Food says so much about where you've come from, where you've decided to go, and the lessons you've learned. It's geography, politics, tradition, belief and so much more and we invite you to dig in and discover the rich, ever-evolving taste of America. Catch up on past coverage.