Brian Scott farms with his father and grandfather on 2,300 acres of land in northwest Indiana. They grow corn, soybeans, popcorn, and wheat and he blogs about it at The Farmer's Life.
Way back in July, I spoke to Eatocracy readers about the drought. It was hot, and dry, and it had been that way for too long. By late July all of our corn had pollinated under the stress of extreme heat and extended drought. Some amount of rain was needed for plants to have energy for grain fill. So what happened when harvest equipment finally entered the field?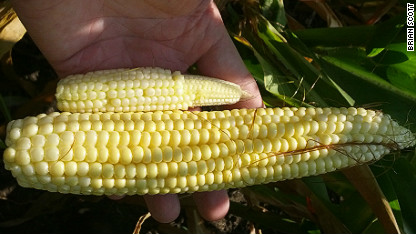 Harvest Arrived
In early September harvest began. Ironically Mother Nature decided that harvest would be a good time to turn the faucet back on again, leading to the disappearance of drought conditions here. She rained us out on several occasions during harvest, but I thought it wise not to complain about slow progress.
Results from Harvest
When Dad and I starting walking corn fields in late July we estimated there would be half a normal crop harvested, and we weren't far off. In the field where we hosted the United States Department of Agriculture, CNN, and other media, corn yielded an average of 97 bushels per acre (bu/A). This same field made 174bu/A when it was last planted to corn in 2010. Corn yields across the whole farm yielded 94bu/A this year. A poor showing at 54% of a normal average for our farm.
Lessons Learned
This year soil type and elevation dictated yield. Remove water from the equation and about all you have left is the potential of the soil. Farmers know that different soil types have different capabilities for holding on to nutrients and water. But this year the drought brought massive differences in yield according to soil type.
I have a yield monitor that displays instantaneous yield figures while harvesting. Usually the change in yield isn't so stark when water isn't a limiting factor, but this year instead of gradual changes I saw sudden rises and falls as soils changed within fields. On several occasions I'd have over 225 bushels of corn and a couple feet down the row be below 100 or even 0. This can be valuable information when we make future decisions on planting populations.
Changes for the Future
Being efficient and increasingly effective with our equipment and inputs boosts both productivity and profitability. I've always got ideas rattling around in my head about how we can improve our operation, but this drought had me constantly thinking, "What can we do in the future to be better farmers?"
We've already begun one new practice on the farm that we wanted to try this fall before the drought reared its head. We have cover crops growing on 200 hundred acres. I'm very excited about these crops we won't even harvest. In a year with low yields cover crops can scavenge unused nutrients from the soil. While next year's crop is growing and these covers are decaying they will slowly release those nutrients to the active plants. Cover crops will improve our soils' health helping our crops power through future stresses. Keeping our fields green through winter is something we're very excited about!
Currently we harvest corn with an 8-row corn head. We looked into buying new or renting a used 12-row to help gather this year's crop. That didn't pan out due to availability, but the numbers look pretty good for buying a new one in 2013.
With 50% more rows in the field that's less fuel, less hours on machinery, and wider passes leading to less soil-compacting tire tracks. In fact a 12 row corn head would work very nicely with our new 24 row planter (8 rows wider than the old one) we put to work this spring. Planter and combine could match up their wheel tracks, reducing yield-robbing compaction even further.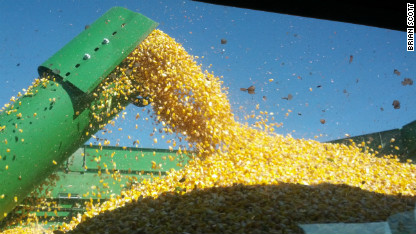 As I write, our largest field is having its drainage system expanded. Even after a major drought we're thinking about having too much water in our soils. Here we usually deal with too much rather than not enough. Drainage tile helps fields dry out more quickly while allowing water to work its way through the natural filter of the soil reducing soil eroding surface runoff.
The changes mentioned here are all about getting more production off the same land while reducing whatever impact we may have on the environment. Next year we'll try some of the same things we did differently this year. The drought was so hard on crops that changes we made at planting and with our fertilizer program this year were masked by the severity of the weather.
I'm excited to get out in the field and do it all again next year. We'll do our part to give our seeds the best chance to be great leaving the rest, like always, for Mother Nature to decide.
Previously:
Opinion: Forward-thinking farmers are preventing another Dust Bowl
Opinion: After the drought, seeking long-term solutions for farmers
Farmer in the drought – if you plant it, it might not come
Farmer: 'If you eat, this drought will affect you'
Praying for rain in the Arkansas drought
From the field – tweets from #drought12
How the drought could hit your wallet