Chef, author and Emmy-winning television personality Anthony Bourdain is now a CNN contributor. He will travel around the globe to places such as Myanmar, Israel and the Congo as host of a new CNN show premiering this April. Follow him on Twitter @bourdain.
When you're a small, independently owned and operated restaurant in New York City, the perishable inventory you just had to throw out of your warm refrigerators as a result of Superstorm Sandy may have been valued at, say, $2000 (to pick a completely arbitrary and optimistic number). And that's what, in a perfect world, you might presumably, hopefully, eventually get back from the insurance company. If you're lucky.
But the real value of that food was at least three times that amount from the second it entered the door. That's the number you were counting on generating once that food was prepared and served. More likely, that's the amount you needed to generate to cover the expenses of operating your restaurant.

If you're like most small restaurants on the Lower East Side or Brooklyn or elsewhere, you needed to sell all those fish, meat and vegetables at a certain price in order to pay for the fish, meat and vegetables you bought last week. That's on top of rent and other fixed expenses that aren't going to go away just because your doors were closed. In a business where margins are so slim, even in a "successful" restaurant, any interruption of business can be disastrous.
So, already, you're in trouble. That's even before you fully come to terms with the direct costs of cleaning out your place, replacing destroyed equipment and furnishings, getting up and running again. Just by being closed for a week, you've tumbled down that slippery slope.
If you're a waiter, busboy, bartender, you live on tips. No work? No tips.
No one will be making up that money for you.
If you're a line cook, a dishwasher, a porter? Chances are, you're paid by the hour. Even if your employer wanted to pay you for sick days and vacations, chances are, he can't. If you're anything like I was during my 28 years in the business, you're already living paycheck to paycheck. You're already struggling to make rent. Any unplanned cash flow interruption is going to cause some serious problems.
Restaurant people are good people. They've chosen to do a very hard thing, with a very limited statistical probability of ever making any real money: serving food to people.
They are not just in the "pleasure business" of making people happy, but in the nurturing business. At the end of the day, the restaurant's job is to feed people. And that's something they have done throughout every crisis.
Whether you're talking New Orleans or New York, it seems it's always the chefs and the cooks and the restaurant people who are out there early and often, giving what they can. Whether it's food, money or time, restaurants and chefs have always been generous to charities, causes and their communities.
So, let's do what we can. Just cause a little DIY place has got its power back on, doesn't mean the bleeding has stopped. While there is no doubt that there are still people with direct, immediate, emergency needs, it would be a great help if those who can afford to do it would eat in the most seriously afflicted areas as early and as often as they can, patronizing local businesses in areas that were clearly hit hardest.
Tip heavily. And maybe send a $20 back to the dishwasher.
That's not charity. It's just neighborly.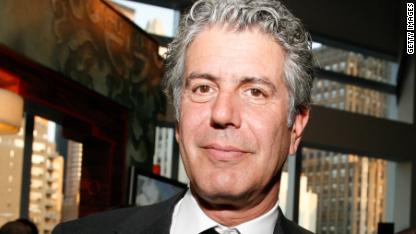 Outside NYC and want to help? CNN's Impact Your World has a great list of resources that could use your time and money. Thinking about coming to New York to eat? Follow the Twitter hashtag #dineoutNYC to see the latest charity efforts and open restaurants and don't forget to #EatDownTipUp.