Food in the Field gives a sneak peek into what CNN's team is eating, and the food culture they encounter as they travel the globe. Jeremy Harlan is a CNN photojournalist. He has a hungry baby and he loves Vienna sausage.
Ever wonder how the press corps keeps their stamina as they trek from stump to stump with presidential hopefuls? Our Jeremy Harlan is keeping a detailed food diary as he's embedded with Mitt Romney's campaign over the next five days.

8:00 a.m. EDT: Full continental breakfast at Fairfield Inn in Mansfield, Ohio. I started light with just an apple, banana and small cup of coffee.
11:00 a.m. EDT: We arrive at Avon Lake High School, near Cleveland. First steps in the door and there's a full buffet of mac 'n' cheese, noodles with sausage, panini, chili, tomato basil soup, salad and more. I'm staying light; it's a gloomy and rainy day, so half a grilled cheese sandwich is my choice. Buffet (pictured above) was provided by Jake's on the Lake.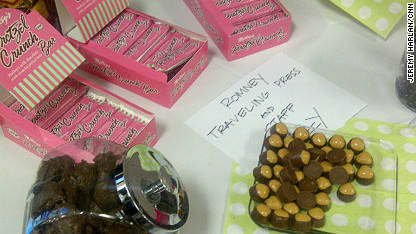 And for the sweet tooths in the press corp, Malley's Chocolates brought in all the chocolate covered goodies we can take with us out the door to the Cleveland airport. Next stop: Moline, Illinois and Davenport, Iowa.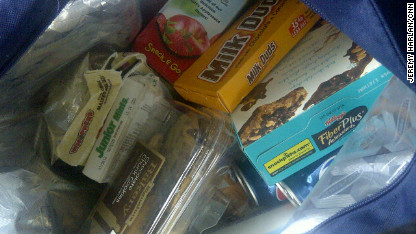 12:46 p.m. EDT: Back in the pool camera van for the motorcade ride to Cleveland airport. Our lovely volunteer driver brought some healthy (applesauce and granola bars) and not-so healthy Halloween treats in case we get hungry for the trip. Gonna pass on the goodies.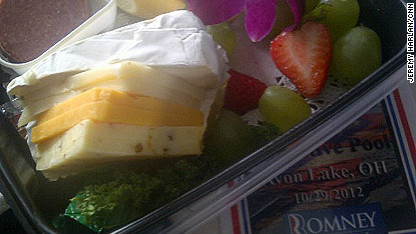 2:18 p.m. EDT: On the Romney plane for the first (and maybe only) time today for a 55-minute flight from Cleveland to Moline, Illinois. From there, we head across the state line to Davenport, Iowa.
The popular choice for the travelling press is hot chocolate and tea. Once we cleared the clouds, the fantastic crew offered a light snack of cheese, sausage, bread and fruit. It's like a fancy Lunchable. I'll have a little sample, with big expectations for our next gig in the Hawkeye State.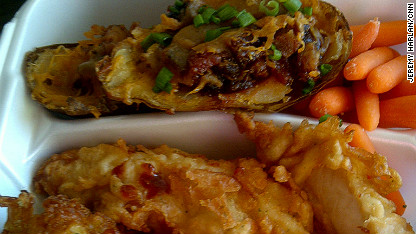 4:12 p.m. CDT: When you're the 5-network pool camera crew and you're rushing from town to town, state to state (we're currently in Daveport, Iowa), sometimes there's no chance to grab the food at a rally site.
But, when you have an awesome pool producer like Rachael Streitfeld, you get a to-go box to devour on the motorcade ride back to the airport.
I don't know the local caterer who fed us at this event, but they put out an array of finger foods including chicken tenders, potato skins, burnt ends and brisket. And because she's looking out for our health, Rachael threw in a few steamed carrots.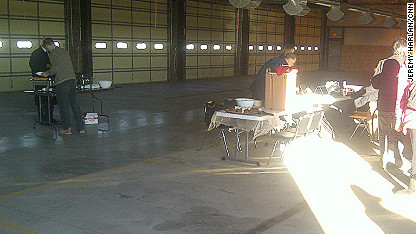 4:50 p.m. CDT: Thirty minutes ago we were rushing to leave the Davenport rally without any time to enjoy the brisket.
But now, we wait in Moline, Illinois for a few hours until our flight to Dayton. So what to do to kill time? Eat! And where to eat? An airport hangar at the airport, of course.
Smack dab in the middle of the empty hangar, fried chicken, potatoes au gratin, green beans and apple crisp awaited our hasty arrival.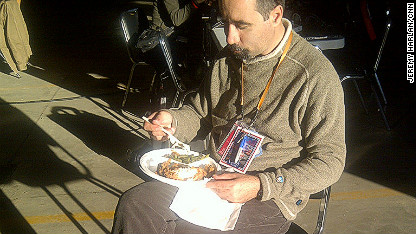 As you can see, my colleague Khalil was happy to pull up a chair, some sunshine and a fried chicken breast. I'm more of a thigh guy.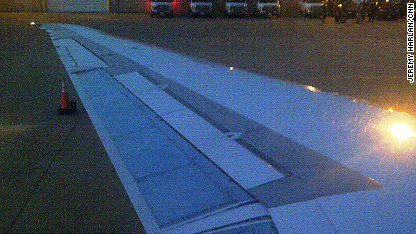 6:15 p.m. CDT: A slight groan just washed over the back half of the Romney plane when the aircraft's staff just walked down the aisle asking, "Anybody hungry for beef, potatoes, and corn?"
At this point in the day, folks probably just want to relax with Beefeaters or something distilled from potatoes or corn.
Let's get to Dayton.
10:10 p.m. EDT: Just because the traveling ends for the day does not mean the food stops appearing.
Despite a last-minute change in our itinerary putting us at the Marriott in Dayton, Ohio, there was still food waiting for us in a makeshift press filing center. Salad, roasted potatoes, grilled chickens, roasted veggies and desserts.
A salad is in order and maybe a piece of chocolate torte to finish Day One.
And with that, we have a lid on the pool food.
More from the Romney press corps by CNN's Matt Hoye:
Previously - Paradise by the refrigerator light – Mitt Romney's favorite meatloaf recipe and 'These chorizos are huge!' – how Paul Ryan's sausage gets made and Cast your vote: Red and blue restaurant specials and Can coffee cups predict the presidency?
Catch up on all campaign trail coverage on Eatocracy and see how CNN's Political Team likes to get their political grub on.