While you're frying up some eggs and bacon, we're cooking up something else: a way to celebrate today's food holiday.
Tomorrow, August 23, is National Sponge Cake Day. To plan ahead accordingly, revelers should whip one up tonight!
Sponge cakes hold a special place in my heart, and my kitchen. A hot milk sponge was the first cake I learned to bake well, thanks to my mother's supervision. The recipe was neatly written in blue ink on a tattered piece of lined paper, folded in half so many times it's torn at the creases. We'd make it for any special occasion, even if said occasion was a random Tuesday. The recipe got passed to friends and neighbors and, eventually, learned by heart.
According to my mother, hot milk is used because it creates an airy, fluffy cake. In traditional British fashion (we're South African), we use jam between our layers of cake and then dust the whole thing in powdered sugar.

Back to the British part. It's said that one of Queen Victoria's ladies-in-waiting developed her own version of the sponge cake, which had already been around for quite some time. Apparently, back then, even the Royals were cutting back on the lunch meal, and poor Anna, a lady-in-waiting, couldn't stand the hunger pangs any longer. She asked her servants to sneak her in a pot of tea and some baked goods to tide her over to supper. Soon she started inviting her friends round for five o'clock tea, arguably one of Britain's best traditions.
One of the treats served at these gatherings was two layers of sponge cake sandwiched between jam and whipped cream, dusted in castor sugar and cut into small squares. Eventually the Queen caught on and the "sandwiches" became her personal favorite and were eventually named after her.
If castor sugar isn't available, simply pulverize some granulated sugar in your food processor until it's very fine.
Here's our family recipe: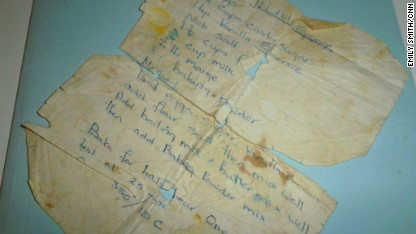 3 eggs
1 1/4 cups castor sugar
1 teaspoon vanilla essence (extract)
Pinch salt
1 3/4 cups flour
3/4 cup milk
1/4 lb butter
3+ tsp baking powder
Beat eggs, sugar, vanilla extract; add flour and salt then mix well. Boil milk and butter and add to mixture and mix well. Add baking powder.
Divide between two round baking pans and bake for half an hour at 350 degrees F.
Don't ask what the 3+ means - I've always just used 3. You can use whatever jam you like between your layers, we like a dark berry jam. Dust with powdered sugar and serve while still warm, preferably with a cup of steaming tea.