Stacy Cowley is CNNMoney's tech editor. She's in a complicated relationship with her CSA and explores the odd vegetables that show up in her haul in CSI: CSA. Previously, she discovered the weedy joys of purslane.
If you've got kohlrabi in your fridge, you're probably in a CSA. I've never met a single person who has procured a kohlrabi in the wild*.
I'd certainly never run across one until my CSA started sticking them in its shares. With most new produce, I can at least take a guess at its likely texture and taste. With kohlrabi, I had absolutely no clue. Its appearance has famously been described by nutritionist Jonny Bowden as "a cross between an octopus and a space capsule."
Lacking any idea where to start, I hit the Internets. First step: Figuring out what to make. Kohlrabi turns out to be obscure but incredibly versatile - you can use it in pretty much anything that works well with root vegetables, but it will also stretch in unusual directions.

The most intriguing suggestion I hit was to make kohlrabi fries. The New York Times suggests flouring and frying; I went with an easier suggestion for slathering chopped kohlrabi rectangles in spices and baking them.
Which led to my favorite discovery about kohlrabi: It's a natural single-serving. One kohlrabi portions out almost perfectly to a side dish. I love veggies that make it easy.
The next challenge was extracting the kohlrabi from its defensive shell.
I turned to YouTube for instructions, which turned out to be straightforward: Chop off the leafy top and break out the veggie peeler. I've drawn blood before trying to free squashes from their shells (butternut is my nemesis) and obliterated several parsnips trying to core and peel them, so I was happy to find that the wild-looking kohlrabi isn't nearly so challenging. Its outer skin is soft and strips away easily.
My debut run with the kohlrabi was a hit. To me, the flavor is slightly sweet and turnip-like; my husband says they taste a bit like water chestnuts. In any case, we both loved them, and I started bartering swaps at the CSA pickup.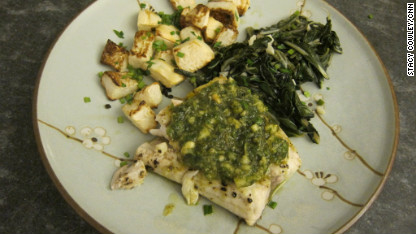 In the past few weeks I've used my growing kohlrabi hoard in risotto (you can toss in both the actual kohlrabi and its greens), roasted them with garlic and olive oil, and made several more batches of "fries." It's supposed to be great in salads, but I like cooked kohlrabi so much that I haven't yet experimented with it in the raw.
I've had a few disasters with my CSA veggie roulette. I'm not a big fan of fennel, I hate celery root and I turned my share of the herb anise hyssop into a pseudo-pet instead of a recipe. (Her name was Victoria. She lived almost an entire summer - longer than some of my childhood hamsters.) Kohlrabi, though, is a keeper. I'll be bummed when the season ends and my space octopus goes back into hibernation until next year.
*By wild, I mean "on a supermarket shelf."