5@5 is a daily, food-related list from chefs, writers, political pundits, musicians, actors, and all manner of opinionated people from around the globe.
Whether gazing over the Riviera or simply enjoying the sunshine on the tiniest patch of grass you could find, a breezy - and boozy - summer drink is always a charming companion.
Todd Lipman, the Beverage Director at the Boston Harbor Hotel, has selected a few of his favorite hot-weather refreshers to quench your thirst, whatever your locale.
Refreshing Summer Cocktails: Todd Lipman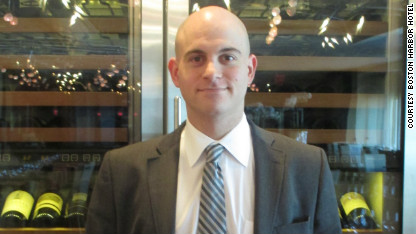 1. Basil-Lemon Rickey
"The Basil-Lemon Rickey is bright in color and flavor. The elegant flavor combinations add a new element to any party."
1.5 oz light rum
.5 oz rum añejo (aged rum)
.25 oz pastis, or licorice-flavored liqueur
2 oz lemon juice
1 oz simple syrup (To make simple syrup, stir two cups sugar and one cup water in a small saucepan, and bring the mixture a gentle boil, then reduce the heat.)
2 large sprigs basil
Basil flowers for garnish (optional)

Place basil, torn by hand in your shaker or pint glass. Be sure to include stems and leaves (stems have the most flavor, leaves give the green color) and two pieces of ice. Muddle thoroughly using a muddling stick or a standard wooden pestle. Then add the remaining ingredients.
2. Harbor Sunset
"This is one of my favorites for late summer. The cocktail showcases the brilliant hues of a setting sun with a hint of bitterness to keep your guests hungry."
1 oz Campari
.75 oz orange-flavored vodka
2 oz orange juice
1 oz simple syrup
2 dashes bitters
Lemon-lime soda, to top
Orange slice, for garnish
3. Strawberry Bubbles
"Light, effervescent and pretty, this is an instant crowd pleaser with bits of fresh strawberry floating about."
1 muddled strawberry
1 oz orange or lemon rum
.5 oz simple syrup
2 oz sparkling wine

Serve in a wine glass on the rocks.
4. Cucumber-Elderflower Lemonade
"The key to a good cocktail is mastering the balance of ingredients. The Cucumber-Elderflower Lemonade is not only harmonious, but refreshing."
1.5 oz gin
.5 oz elderflower liqueur
.5 oz lemon juice
.5 oz lime juice
.25 oz simple syrup
Pinch of kosher salt

Top with club soda in a highball glass 3/4 full with ice.
5. Mai Tai
"On a hot summer day or night, something lightly sweet and totally tropical, like the Mai Tai, hits the spot."
1.5 oz silver rum
.5 oz rum
1 oz lemon juice
.25 oz simple syrup
.5 oz amaretto
.5 oz orange Curaçao
Is there someone you'd like to see in the hot seat? Let us know in the comments below and if we agree, we'll do our best to chase 'em down.