As the rover Curiosity makes its journey to Mars, food scientists on Earth are exploring whether astronauts with a green thumb will be the key to feeding at least a six-person crew on a future mission to the Red Planet.
"The big challenge is having a food system that is going to work for that long-duration mission," says Michele Perchonok, NASA's Advanced Food Technology Project Scientist.
A "Martian greenhouse" is one of the food systems being considered for a manned mission to Mars, which isn't scheduled until the 2030s.
It takes six months just to get to Mars and the team in charge of food, including Perchonok, is responsible for feeding the crew every day for two and a half years.
"If we didn't go with the plant-based bioregenerative food system, and all we did was provide packaged food for a 1,000-day mission for a crew of six, it's about 20,000 pounds of food plus packaging," she says.

To complicate matters, all prepackaged food going to Mars must have a shelf life of at least five years. Perchonok says while prepackaged items are likely to be pre-positioned on Mars by an unmanned cargo capsule, it will not be enough food to last the duration of the mission.
"You need to grow it, and that's part of the reason we have some of the experiments that we do on the [International Space] Station," says astronaut Cady Coleman, whose most recent mission included a six-month stay on the ISS.
Such experiments include growing plants in a water and mineral solution, as would be done in a Martian greenhouse.
Perchonok says they have been able to grow some plants on the Space Station but "not in the quantities that do anything more than, 'Oh look, I can have a piece of lettuce today.'"
Since a piece of lettuce won't feed a crew of six, growing a large quantity of food is one of the many culinary challenges.
Food scientists recognize that their job is not just important for the space travelers' physical health but also their mental health.
"Certainly psychologically to see bright fresh colors of fruits and vegetables and crunchy textures is going to be helpful," says Perchonok.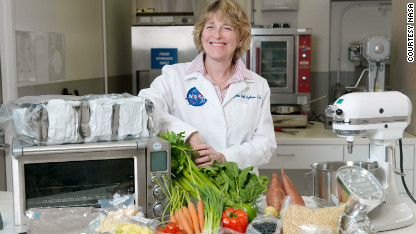 As scientists continue their work on growing tomatoes, bell peppers and onions in a Martian garden, they are no longer burdened with one very important part of the Mars food puzzle: Chocolate. There is something about being in space that gives people, like Coleman, a sweet tooth.
"People that I knew didn't eat sweets almost at all down on the ground would be eying the chocolate, when it came up in those care packages, with real intent," she says.
Perchonok didn't need to go to space to appreciate the importance of having chocolate on a Martian menu.
"I don't know about anyone else, but I couldn't go without chocolate for two and a half years," says Perchonok.
"We did do a shelf life study, and cocoa powder lasted for five years. So, we know we can at least provide them with cocoa powder to make chocolate," she says.