Brian Scott farms with his father and grandfather on 2,300 acres of land in northwest Indiana. They grow corn, soybeans, popcorn, and wheat and he blogs about it at The Farmer's Life.
As we seeded our corn, soybeans, and popcorn on our Indiana farm this spring, there were many reasons to think that we would harvest a fantastic crop this fall. To start, we had a new John Deere planter equipped to help us plant with greater efficiency and accuracy than ever before. Then March came with temperatures 20-30 degrees above normal. Warm temperatures and dry conditions meant a very early start to planting on our farm. It seemed that with a long growing season ahead that the sky was limit for yield. That seems forever ago now.


A change in the weather
In a normal year (I'm not sure that's a real thing) we might start planting around the middle of April. This year we began on March 29. A March planting date for corn and soybeans is all but unheard of in Northern Indiana, but with daily high temps pushing 80 degrees instead of more typical mid-50s field conditions were right.
We talked about the risk of an April frost damaging young plants. In the end, we decided to go ahead with field work thinking we would have a head start when the rains came and pushed us out of the field.
Feds offer help to drought-stricken farmers
The rain never really did come for much of the United States. In fact, we stopped planting for five or six days to wait for chances of rain to develop. To stop planting because we'd like to see more moisture in the soil to aid germination is a strange thing for us. Usually we are waiting for fields to dry out so we can plant in the right conditions. But at the time, waiting for rain was not a big deal. Planting was still two to three weeks ahead of schedule, and with our new, wider planter we were covering 10 acres per hour more than last year. No need to get in a big hurry. It was best to wait for conditions to improve.
Going into June crops could not have looked better. I don't recall corn looking so good and so tall early in the season. "Knee high by the Fourth of July" is a goal that was achieved in late May and early June in all our fields. But it hadn't rained more than a few tenths at a time for several weeks, and those rains were few and far between.
We were impressed how great the fields looked despite the lack of moisture. We actually saw that as a good sign because we've had so much rain the last few years that crops didn't put down very extensive root systems. This year plants got to put roots down deep. That's better than shallow roots if the rain suddenly stops in a wet year.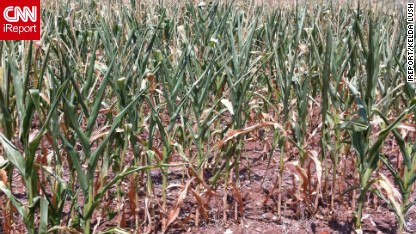 As June rolled on, it just didn't rain. And it got hotter. A lot hotter. Daytime temperatures in the 90s became the norm. 100+ degree days came around far too often. By the time July 1 came around, the corn crop hadn't put on much more growth. I began saying that although corn looked very tall a month previous, it now seemed short taking into consideration how early the crop had been planted. Then it started to put on tassels and enter the pollination phase. That's when we first started to get concerned.
Impacts on 2012
Excessive heat is hard on a corn field trying to pollinate. Compared to soybeans, corn has a short window to successfully pollinate. Over the last week we have been in the fields sampling ears of corn. There are a surprising number of ears that I would call very nice ears in a good year. There are also ears that are very small, and some partially pollinated - which means they are not filled with kernels. And there are plants out there with no ears at all.
It's difficult to estimate what yield will be when harvest begins because we are finding a lot of inconsistency when we are scouting. Right now, we think crops on our best land could yield around 120 bushels of corn to the acre. That's about 50 bushels an acre lower than our five-year average. Ironically we received a much needed two inches of rainfall the night after CNN covered the drought from our our farm, but no amount of rain is going to improve our corn crop at this point.
Pollination is a one-time deal for corn. So whatever is out there now is the best we can get this year. If things cool off and some rains come we will gladly welcome them, but at this point our corn crop can only maintain its current potential. Should heat and drought persist, yields will continue to fall.
At this point I'm confident we will have a crop to harvest although all of our farm is considered to be under severe or extreme drought. Other parts of the country have it worse than we do. Farms in Illinois are mowing down corn crops. Fields intended for grain production have been harvested for silage of marginal quality to be used as feed for cattle. Ranchers are selling off their herds in record numbers because they don't have the resources to feed their animals.
I can find a few positive outcomes during this long period of drought. We still have some of last year's corn and bean crop in storage on the farm. Suddenly those stored bushels have become quite valuable. We just sold a few truckloads of waxy corn for $9 a bushel. That's very high. A historic high for our farm actually. Prices for new crops are soaring as well. Although unfortunate circumstances have brought about higher prices, it's the market at work that will help us minimize our financial losses along with crop insurance.
What fall will bring
It's been a tough year, and it's not over yet. Harvest can be such an exciting time of year but this year, few Midwestern farmers will look forward to it. Here's what I expect:
– I will have had months of watching our crops fail to meet their potential. Already as I walk through our fields, I see them decline a little more each day.
– Watching combine harvest yield monitors, some of the numbers are going to make me feel sick.
– We will start thinking about spring 2013. Hopefully next year we will learn what impact the changes in equipment and practices we made this year will have.
– We will feel the pinch of a really bad year. I know our farm will continue on. I can't speak for all farms, but I can speak for ours. I'll hope the same goes for my neighbors and friends. I'm confident we'll be a farming family for a long time to come and this is why.
My dad said it best in the Journal & Courier last week. "It's hard emotionally. Farmers work to be successful at all levels. We work to raise a good product. We have to get over that, manage our losses and go on."
This drought will pass, and we will be out next spring with renewed hope of a bumper crop.
Images courtesy of iReporters Emilee Trenter and Kelda Lush
Previously:
Farmer: 'If you eat, this drought will affect you'
Praying for rain in the Arkansas drought
From the field – tweets from #drought12
How the drought could hit your wallet
Drought causing problems near you? Show us the effects, and how you're coping, using iReport.