5@5 is a daily, food-related list from chefs, writers, political pundits, musicians, actors, and all manner of opinionated people from around the globe.
Anthony Lamas has fond memories of traveling to Tijuana, Mexico, while living in California just to get aguas frescas from street vendors, who would ladle the refreshing beverages over ice. The fruit coolers are simple combinations of fruits, and sometimes cereals or seeds, with sugar and water.
"To Latinos, not even lemonade can evoke summer like aguas frescas," says Lamas, the executive chef of Seviche in Louisville, Kentucky. "In Mexico, for example, popular flavors include tamarind, passion fruit and mango, but since I am in the South, I like to use peaches and melons. It's really about using what is local and in season."
Five Refreshing Aguas Frescas: Anthony Lamas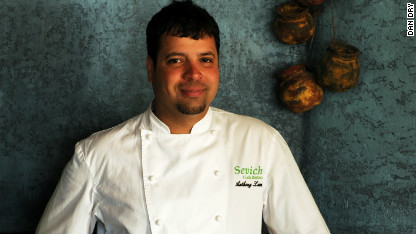 1. Watermelon Agua Fresca
This is one of the most refreshing aguas frescas, and it makes great use of the abundance of watermelons available during the summer months. I recommend yellow watermelon, which provides great color.
1 whole watermelon, peeled and cut into 1-inch cubes (In Mexico, the seeds are served in the beverage, but you may wish to use a seedless variety or seed the melon.)
3 cups ice (crushed is easiest to measure)
Juice of 2 limes
2 cups sugar
Place the watermelon in a pitcher and use a potato masher to crush the fruit. Add the sugar and lime juice and cover the mixture with the ice and water. Stir for about 2 minutes to dissolve the sugar. Refrigerate for at least 2 hours. To serve, pour the agua fresca over ice and garnish with a lime wedge if desired.
2. Honeydew Agua Fresca
Select honeydews that are heavy for their size. Use the base recipe as described above, but substitute one whole honeydew for the watermelon. Reduce the amount of sugar to one cup.
3. Peach Agua Fresca
Fresh Georgia peaches are fantastic in this recipe. Use the base recipe as described above, but substitute 12 peeled, pitted and chopped peaches for the watermelon and reduce the amount of sugar to one cup.
4. Kiwi-Lime Agua Fresca
Kiwi is a unique ingredient for agua fresca, and it is complemented well by plenty of lime juice. Use the base recipe as described above, but substitute 12 kiwi for the watermelon, reduce the amount of sugar to one cup and increase the limes to six.
5. Horchata
This is a milky variation on the fruit aguas frescas. A great way to serve it is in a margarita glass with a cinnamon-sugar rim.
1 cup uncooked rice
1/4 cup almonds
5 cups water
1 vanilla bean
1 tsp cinnamon
1 cup sugar
2 cups ice
Put the rice, almonds and water in a blender and blend until the rice and almonds are broken up, about 2 minutes. Refrigerate the mixture overnight. Strain the water into a pitcher. Add the ice, cinnamon, sugar and vanilla bean. Refrigerate for at least 2 hours.
Is there someone you'd like to see in the hot seat? Let us know in the comments below and if we agree, we'll do our best to chase 'em down.