Olive oil, a key ingredient in the Mediterranean diet, has been touted as the panacea in the fight against heart disease, and demand for some types of oil is starting to rival that of a fine bottle of wine.
Besides being high in healthy monounsaturated fats, a report in the February issue of Archives of Neurology says that olive oil is one of those good fats that may even protect the brain.
Bob Bauer, President of the North American Olive Oil Association, says the significant growth in the consumption of olive oil usage is not a fluke. In 2011, 599 million pounds of olive oil were imported, compared to the just 64 million pounds imported in 1982.

"It's a combination of people hearing more about olive oil from the media and cooking shows. And now, they hear about it from their friends and people are willing to try and be creative and try new foods," says Bauer. "Olive oil is just new to some people. It just tastes good and just using it makes a dish seem fancier."
And while Greek olive oil only accounts for approximately 2% of imported olive oil into the U.S., Kalamata olive oil (and to a larger degree, its olives) has exploded into the market. From hummus to salad dressing, Kalamata olive oil has become synonymous with a healthy lifestyle.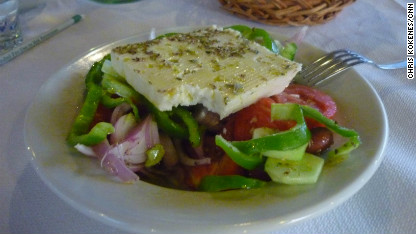 The city of Kalamata, a hidden gem on the southern coast of the Peloponese, is not only the home of the musician Yanni and sun-drenched beaches, but also to some of the best food products along the Mediterranean, including its world-renowned olives and extra virgin olive oil.
What distinguishes a Kalamata olive from all others is its distinctive juicy and thick texture, low acidity, peppery aftertaste and, above all else, its almond-shaped pointed pit that is reddish in color.
But with the success and name recognition of Kalamata, comes imposters and imitators who often promote their products as the originals.
It's that very distinction that exasperates AGRO.VI.M. owner and vice-president Jenny Gyfteas. While imitation is the sincerest form of flattery, Gyfteas says that many of the products that reach the mouths of consumers are not what they appear to be.
Her gripe is that many who sell Kalamata olives and oil are not Protected Designation of Origin (PDO) certified. Only products that come from and are packed in Kalamata can receive this certification.
As both an opportunity for the producer and a guarantee for the consumer, the European Union (EU) established the quality standard that is awarded only to high quality oils produced in specified areas with a high concentration of olive trees.
"Kalamata brand refers to a certain product," says Gyfteas. "Others package in Italy and not in Greece. Greece does not have the means or finances to go after imposter producers of Kalamata oil."
Gyfteas stresses the consumer should be very careful when buying products: "It should say 'product of Greece and packed in Greece' and it should be packed in Kalamata which is the only way to minimize fraud."
Jenny Gyfteas and her brother Dimitri oversee the company's Iliadia product line that was started by their father, Andreas, in 1964. The company has grown to become the third largest that specializes in Kalamata olives; it produces nearly 8,000 pounds of olives and 12,000 pounds of olive oil annually.
The olives are mostly harvested by hand from November until January, and then bagged and taken to local mills where they are processed.
In 2010, the company exported 25 million euro (US $32 million) worth of goods. While only 8% of the company's products are sold in Greece, the remaining products are sold overseas with much of the olive oil sold in bulk to Italy.
And while sales are up, Iliada production manager Makris Giannopolulos says growth is modest, but that will change as more people are introduced to the Greek oil.
"Now a lot of Greek restaurants are popping up, even in China and that's good for us," says Giannopolulos. "It takes a lot of time to understand the quality."