It was a few minutes before 11 a.m. and Bill Adams had two things on his mind: Brunswick stew and cracklin cornbread.
To satisfy his craving for meat stew and fried pig skin, this lifelong Georgia boy made the hour-long drive Tuesday from his home in Griffin to Harold's Barbecue in south Atlanta. When he and his friends learned this was to be Harold's last week in business, they made plans for a final pilgrimage.
"Just wanted to stop by for one last meal," the longtime patron said as he waited in the restaurant's dusty parking lot for doors to open. He wasn't alone; there were about a dozen others, including a pair of Georgia State Troopers.
"It's inevitable. Everything changes. Nothing lasts forever," he said. "We don't like it but we can't stop it."



CNN Radio's Emma Lacey-Bordeaux spoke with Harold's patrons about their longtime love of the place. Click to listen to the CNN Radio podcast.
The barbecue joint has been an Atlanta mainstay since it was opened by Harold Hembree Sr. in 1947. It's earned spots on "best-of" lists nationwide, as well as in the hearts of natives, many of whom remember when the run-down two-room establishment was still a one-room curbside spot where teens brought dates and families came for lunch.
Adams recalls a time when a nearby General Motors plant guaranteed a steady stream of lunchtime customers and patrons had to come early for a parking spot. A short ride from the State Capitol, Harold's became a favored lunch spot for Georgia politicos in the days before Atlanta's legendary traffic snarled the city.
The plant closed in the 1990s. Residents of nearby Lakewood Heights moved on and decamped to the suburbs, draining the customer base to the point where Harold's staff was trimmed down to one waitress (Hembree's granddaughter, Toni) and the phone line was dropped because they couldn't afford the bill.
One week ago, general manager Billy Branyon announced that Harold's would be closing its doors forever this week, coinciding with the 65th anniversary of its opening. But, thanks to a boost in business in the past week, Harold's has earned a temporary reprieve.
"We're going to try to stick it out," said Billy Branyon, who is the great-grandson of Harold Sr. "A lot of people thought we were closed but now they know we're still open for business."
As restaurants like Harold's fade from the landscape they often become rallying points for the community.
"At barbecue gatherings in by-gone eras, people probably didn't need a reason to be reminded to get together and share each other's time. That's just not the case anymore," pitmaster Drew Robinson said in a previous Eatocracy column.
"People look for reasons to maintain community and their sense of place in it," Robinson continued. "Fortunately, we have barbecue as a sort of communal elixir. Barbecue is both primal and elemental which is why it has great power to equalize people. It grounds people and roots them to their place. There's something magical in that smoky meat that helps us find our common ground, our place at the table and our place in the community."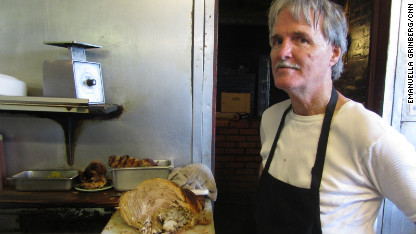 David Smith has been cutting meat at Harold's BBQ for 35 years.
While the threat of Harold's demise might have earned the business a temporary reprieve - despite mixed complaints in recent years about the quality of the food and service - what the future holds remains to be seen.
Whatever the outcome, Tuesday's attendance echoed a bygone era when factory workers, politicians and members of the community queued outside for a chance to get in. Customers streamed into the wood-paneled dining rooms and by 11:30, nearly all tables were occupied. Toni Hembree's daughter and sister were called in to help her wait tables.
"It's better than usual," she said as she rolled plastic utensils and straws into paper napkins with lightning speed behind the counter. "We stopped getting business about a year ago. Everyone retired or moved away or passed away."
By noon, the counter was full and people stood around waiting for tables. They browsed pictures on the wall of famous visitors like Jeff Foxworthy and Georgia governor Nathan Deal, who used to dine at Harold's several times a week when he was a state senator, Branyon said.
Most visitors were long familiar with Harold's legendary stew and vinegary barbecue. Sisters Sharon Hooks and Martha Williams used to visit Harold's with their parents and friends as students at Fulton High School. Even after they moved, they still made the 50-mile drive at least once a year to pick up food for their families.
On Tuesday, they left with four sliced pork sandwiches, four stews and one pound of barbecue.
"It's an icon," Williams said as she waited at the counter surrounded by brown bags of food. "It's the best stew anywhere."
By 12:30, there was no more Brunswick stew and cornbread was on backorder.
In the rear dining room, Phil Parks and Jim Segars lamented the restaurant's impending demise and what its loss meant to Southern dining.
"It's sad, very sad," Segars said as he named other lost monuments, such as Hickory House and Seven Steers.
Parks agreed, "These are the ways Southern people used to eat and it's a shame to lose that connection."