5@5 is a daily, food-related list from chefs, writers, political pundits, musicians, actors, and all manner of opinionated people from around the globe.
The meaty madness of springtime grilling comes to a crescendo on Friday, April 27, with National Prime Rib Day - and really, is there any cut of meat more decadent and rich than a well-marbled prime beef rib?
Though the prospect of preparing the indulgent cut can be daunting, advice from experts like Steve Byrne of Tavistock Restaurant Group will have you firing up a perfectly cooked steak every time.
Five Tips for Prime Rib Supremacy: Steve Byrne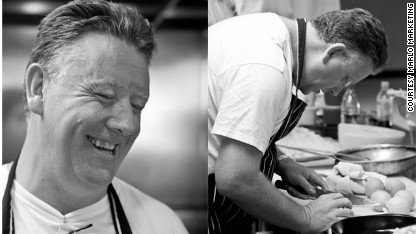 1. Prime rib grill master
"First thing to keep in mind is that prime rib, either the full piece or cut into steaks, needs to be at room temperature before it is given any heat. To get the grilling underway, heat your charcoal or gas grill to a minimum of 550 degrees Fahrenheit.
Next, brush your rib steaks with olive oil on both sides and season heavily with a mixture of 30% white peppercorns, 30% black peppercorns, 30% green peppercorns and 10% sea salt (rub the seasoning into the meat).
Place the steaks on the grill and sear for two minutes on each side, then place onto a rack six inches above the heat. Allow to sit for two minutes, then remove from the grill. Serve medium-rare."
2. Pan-blackened perfection
"Though many folks stick with the familiarity of the grill, pan-blackened prime rib is similarly delicious and surprisingly simple.
To begin, heat a cast iron skillet over a gas flame until it is almost red hot. Brush the rib steaks with olive oil. Rub two tablespoons of blackening spice and one teaspoon of ground habanero onto each side of the steak. Leave for 10 minutes.
Place the steak into the hot skillet for 1 1/2 minutes on each side, then place onto a plate and cover with a bowl. Leave for four minutes. Slice into 3/4-inch slices and serve with caramelized onions and crusty French bread (great for sopping up the juices!)."
3. Bring on the bone
"For the ultimate prime rib experience, leave the steak on the bone - the flavor-enhancing bones give you more of the full, mellow taste that makes prime rib such a favorite.
Take a four-bone piece of prime rib, brush with olive oil and rub with the same mixture of white peppercorns, black peppercorns, green peppercorns and sea salt used above (rub the seasoning into the meat and allow to sit at room temperature for one hour).
Heat a cast iron skillet over a gas flame until it is almost red hot. Sear the meat on all sides in the hot skillet until dark brown and caramelized. Heat your charcoal or gas grill to 250 degrees and place the seared rib onto the shelf of the grill so that it is not in direct contact with the grill.
Close the lid and cook for six hours. Place a roasting pan with one cup of water under the meat to catch the drippings. Turn the meat over every two hours. Remove from the grill and place on a platter, bones down, for 30 minutes to rest."
4. Super sauces and sides
"Hearty, flavorful sauces and sides work best to accentuate the meat. Keep it rustic with sauces like homemade red wine gravy or au jus, and sides such as oven-roasted celeriac and Yukon gold potatoes (crispiness is key here) or braised savoy cabbage."
5. And, don't forget the wine
"The brilliant garnet color of Gauthier 2009 Pinot Noir offers a visual testament to the depths of its flavors. Full of roses and allspice, smoked cherry and baked cranberry, the robust wine stands up perfectly to prime rib.
A relatively recent addition to the wine world, Pinotage is grown in the Stellenbosch region of South Africa and offers another excellent pairing with prime rib. Expect flavors of mulberry, blackberry, and tobacco, often with rich spiciness and gamy nuances."
Is there someone you'd like to see in the hot seat? Let us know in the comments below and if we agree, we'll do our best to chase 'em down.
See all our best grilling advice at Grilling 101