We asked you to make a dish with ethically produced chocolate, and the results left our mouths watering. But more than that, we were proud that so many people took the time to learn about child slavery in the chocolate industry.
A total of 65 entries came in, encompassing sweet and savory combinations (chocolate covered bacon) regionally distinctive recipes (chocolate sourdough bread) and deliciously simple snacks (chocolate dipped fruit and nuts).
CNN Freedom Project editorial director Leif Coorlim, Cacao Atlanta owner Kristen Hard and Eatocracy managing editor Kat Kinsman picked three winners based on originality, presentation, regional emphasis and story.

Kalter hund (Cold Dog) Cake: A Former East Germany Favourite
By Joanne Hogan's 8th grade geography students at Leipzig International School - Leipzig, Germany
Hogan loves to teach her 8th graders about sustainable development and fair trade products, because "it is at this age in which the students start to become consumers and make their own decisions about what they will buy."
Kristen Hard, owner of the Cacao Atlanta chocolate boutiques, applauded the students for "helping to set a precedent for other schools in their community and across the world to really understand where the things that they use and consume on a daily basis come from ... They can help to bring this message to the attention of people the world over even at their young age."
Chocolate Cherry Bread Pudding with Amaretto Custard Sauce
By video producer Cortney Matz and host Valerie Cymes - Fairfax, Virginia
Matz and Cymes, producers of the online video series, "The Chocolate Tourist," put a tropical twist on "Virginia home cookin'" with the use of Grenada Chocolate (grown, produced, and distributed by a collective of Grenada workers) in their cozy bread pudding (recipe here).
Leif Coorlim, the editorial director for the CNN Freedom Project, said the entry "not only included a very specific recipe but also a well-produced and upbeat video that explained each step ... My mouth literally started watering as soon the chocolate was drizzled over the bread. I was also just interested in all the baking tricks they offered like filling a bowl with ice to cool down the sauce and using weights to help the bread absorb the chocolate."
Theo Chocolate & Caffe Vita Gooey Double Chocolate Mocha Cookies
By Theo Chocolate - Seattle, Washington (pictured above)
The team of chocolatiers at Theo, a fair trade, organic chocolate company in Seattle, created this special cookie recipe to highlight its 70% dark chocolate and the city's coffee culture.
Kat Kinsman, managing editor of Eatocracy, said she's a longtime fan of Theo Chocolate "and especially appreciate how the recipe they submitted celebrates the food culture and terroir of the place they call home. People will never be convinced to spend their money on fair trade chocolate if it doesn't taste good, and Theo has made that their passion."
FIRST RUNNER-UP: Soul in a bowl
By Yohana Solomon, an Ethiopian-born caterer and mother to a toddler who didn't want to eat her lentil soup - Atlanta, Georgia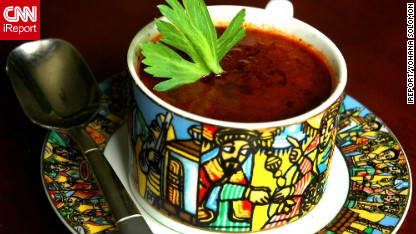 Kinsman adored "the cultural meld within this humble bowl of soup," saying, "it might have been born out of necessity ... but it's a beautiful way to bridge traditions and introduce her young daughter to the food she grew up with."
Coorlim said, "Garlic, ginger and hot spice are all among my go-to ingredients. I'd definitely make this for myself if I didn't think I had a chance to get it straight from the chef."
SECOND RUNNER UP: Nanaimo Bars
By Clara Salamanca, a cancer-cell biologist during the week and a volunteer with the fair trade store Ten Thousand Villages on the weekend - Vancouver, British Columbia
Hard praised Salamanca's version of a popular local specialty, saying, "The fact that Clara is already familiar with fair and direct trade products and companies because of her job at Ten Thousand Villages is great, but I like that she took it upon herself to make her own version of a sustainable dessert."
Thanks to everyone who participated. Check out some of the other entries and recipes to try on your own.
Interested in participating in future food challenges? Register on iReport and join the food group.