5@5 is a daily, food-related list from chefs, writers, political pundits, musicians, actors, and all manner of opinionated people from around the globe.
It'd be a tragedy for you not to try the wines of Greece, that is if Andrea Englisis has a say in it.
Englisis is co-owner of Athenee Importers, the largest importer and distributor of wine, spirits and beer from Greece and Cyprus in the United States. She also holds the Diploma in Wine and Spirits (DWS).
Five Greek Wine Alternatives: Andrea Englisis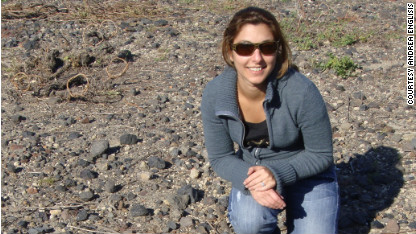 1. If you like Albariño, try Assyrtiko (ah-SEER-tee-ko)
"Assyrtiko is a mineral driven grape with honeysuckle, mineral and citrus aromas and crisp acidity. Predominately grown on and originally from the crescent-shaped volcanic island of Santorini.
Interestingly, Santorini is one of the most inhospitable places to grow grapes; the soil is virtually nutrient-free, rainfall is almost nonexistent and the hot winds throughout the summer can blow away anything not tethered to the ground. For all these reasons, all vineyard work including harvesting is done by hand."
Pairings: Seafood, shellfish and sushi
Brands to look for: GAI'A (yeai-ah) and Argyros (ar-yee-ros)
2. If you like Pinot Gris or crisp floral whites, try a Moschofilero (mo-sko-FEE-le-ro)
"It is a deep pink-skinned grape that makes very aromatic whites and rosés. The grape has beautiful floral notes and a lingering minerality. It is the only grape allowed in the region of Mantinia in the Peloponnese, which is surrounded by mountains, offering a cool climate and longer ripening periods."
Pairings: Shrimp scampi, fish tacos and Asian cuisine
Brands to look for: USDA organic Domaine Spiropoulos
3. If you like southern Italian reds or Merlot, try Agiorgitiko (ai-your-YEE-tee-ko)
"This variety produces a range of different wines, light rosés up to age-worthy reds. They are medium-bodied wines with softer tannins, making them very food friendly and perfect for summer. Grown in the Peloponnese, it is the principal grape of the Nemea region, and is Greece's most planted red grape variety."
Pairings: The rosés and lighter reds match well with a grilled meats and barbecue, or chilled for a picnic.
Brands to look for: GAI'A and Domaine Spiropoulos
4. If you like Nebbiolo or northern Italian reds, try Xinomavro (ksee-NO-mav-ro)
"The grape is intense, full-bodied, with hints of ripe black fruit and a lot of tannin. It also has a good acidity level, actually the name literally means 'acid black.' Xinomavro is found in the Naoussa and Amyndeon appellation zones in northern Greece. They are grown at altitudes ranging from 500 to 1,300 feet."
Pairings: Pasta Bolognese, venison, steak and other richly flavored dishes
Brands to look for: 100% biodynamic Thymiopoulos Vineyards
5. If you like dessert wines, try a Muscat from Samos
"The Muscat grape is a fairly popular around the Mediterranean; however, only in Samos does it produce luscious wines. The notes that prevail are fruity and floral with a pure aroma of grape. Muscat blanc à petits grains is the only grape that grows on the verdant island of Samos in the eastern Aegean Sea. The vineyards rest on terraced perches and harvest is done entirely by hand. Comparable to French Muscat appellations like Beaumes-de-Venise, these wines are half the price."
Pairings: Known as the ultimate dessert wine, they also pair extremely well with rich cheeses and nuts for a Greek happy hour
Brands to look for: UWC of Samos
Is there someone you'd like to see in the hot seat? Let us know in the comments below and if we agree, we'll do our best to chase 'em down.