The restaurants and grocery stores in the District of Columbia provide residents, workers and visitors with ample access to healthy, seasonal foods. As a result, it's hard for many people to imagine the stark contrast to many of D.C.'s poorest neighborhoods, which have little or no daily access to fresh food.
According to the D.C. Department of Health, 55% of District residents are overweight or obese - including nearly half of all children. In some neighborhoods, the rate of overweight and obesity exceeds 70%. Lack of access to healthy food options in the lowest income communities has been cited as a major contributor to the crisis.

Washington D.C. is broken into several wards. Many of the visitors and residents who buy food in the District will most likely chow down and shop in Wards 6 or 2, or in Chinatown, Georgetown or on Capitol Hill, where many restaurants and niche supermarkets exist.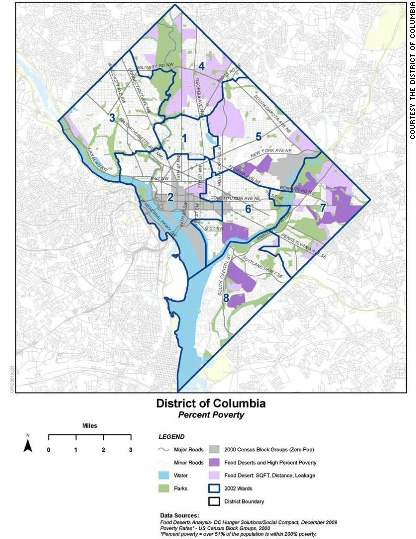 See a larger version of this image.
Residents in Southeast Washington - Wards 7 and 8 - have the least access to fresh food and grocery stores.
Because of these so-called "food deserts," the city council took action and passed the "FEED DC Act" in 2010. Among other things, the act was designed to help ensure access to fresh, unprocessed foods in Washington's lowest income communities.
Joelle Johnson is the local initiative and procurement coordinator for D.C. Central Kitchen (DCCK), an organization that uses food as a tool to strengthen the overall community.
Johnson spearheads DCCK's "Healthy Corners" campaign to get fresh products to 30 local "corner stores" around the District's food deserts. The organization teamed up with the Department of Small and Local Business Development in Washington, and secured a grant for $300,000, to help jump start the campaign and ultimately get fresh fruits and vegetables to the corner stores in the wards that needed it most.
"DCCK has added new products to the shelves such as red peppers, red onions and grapefruit." Johnson says. "Our catering department makes banana bread using bananas that didn't sell, and homemade applesauce with local apples instead of oil."
This also takes away much of the leg work from the local stores by delivering the produce to them directly.
"Our program is about education, outreach, we try to do a little bit of everything. We are taking a preventive approach to a poor diet," Johnson says.
By taking these measures, they are hoping to stem the increase in citizens with diet-related health issues. It's just one piece of the puzzle and DCCK is excited about the response thus far.
"Seniors at one complex in D.C., where one of our corner stores exists, are thrilled. They're thankful for the program coming to the building," Johnson explains. "One woman in particular hopes the program could make its way into more senior centers, so that other seniors would have the same kind of access to food she has."
DCCK's outreach program is impressive, even recently sending a nutrition outreach coordinator to all corner stores involved in the program. The coordinator would pass out samples of a simple sweet potato dish with a corresponding recipe card that included serving suggestions like: "to be put on top of rice or salad," or "can be served hot or cold."
This kind of outreach is intended to make it easy for those wanting to change their eating habits but don't know quite where to start.
"The biggest role DCCK is playing is to serve as an aggregate, and to have an affordable option for residents," says Johnson.