Whether you twist them, split them, snap them or just chomp on in, it's a slam dunk for lovers of the iconic Oreo cookie. The first one was sold to a Hoboken, New Jersey, grocer 100 years ago today.
While the traditional chocolate wafer and single filling layer reigns supreme with consumers, to the tune of more than $2 billion in global annual revenues, Nabisco began offering variations such as the "Double Stuf" (with twice the standard amount of icing) in 1975, and the 100-calorie-per-cookie "Triple Double" (three wafers, and a layer each of standard and chocolate icing) in 2011.
Due to public health concerns, Nabisco phased out lard from the original filling recipe in favor of trans-fats, which themselves came under fire in 2003. As of 2006, all classic-format cookies have been made with non-hydrogenated vegetable oil.

The cookies are sold in over 100 countries around the world, offering regional twists such as a green tea flavor in Japan, a "Duo" featuring strawberry and standard filling in Argentina, and a vanilla cream edition in China, among others.
Nabisco has released a sprinkle-filled 100th anniversary Birthday Cake limited edition throughout the United States and is celebrating with a dedicated website and fan festivities around the world.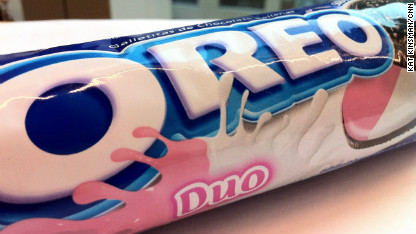 We suggest a "S'moreo"