Last week, Milwaukee lost a walking institution when Frank "Pepperoni Cannoli Guy" Pecoraro died. He was 76.
To those born and raised in Brew City, it's fair to say the East Side nightlife scene wouldn't be complete without spotting him with a cooler full of snacks.
Standing barely over five-feet tall, Pecoraro could be seen walking for miles on end carrying - you guessed it - pepperoni and cannoli inside his signature blue and white cooler.
Having immigrated to the United States during the 1960s from Italy, he had a distinct bellowing voice that would grow hoarse by the end of the night after repeatedly calling out, "Pepperoni! Cannoli!"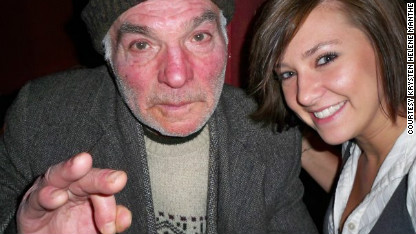 If you stopped to buy some goodies, he would say,"You like da spicy?" followed by whatever the going price was. Last time I lived there he was asking $2.
"His English was as good as my Italian," said Joseph Turecek, owner of Fat Joe's Hot Dog Cart, letting out a monster laugh. "He'd twist his finger in his cheek and say 'You're good.' I still don't know what that means."
The night they met, Pecoraro came by Fat Joe's hot dog stand on a bitterly cold night, he recalled. Frank entered his makeshift canopy heated by a propane tank to get warm.
They talked for hours and became friends.
Pecoraro would always stop by in winter to warm up, and in summer to chat. He would devour the Italian beef sandwiches that Turecek gave him, and often times Turecek would give him a ride home if he downed too many shots usually bought for him by bar patrons.
"He was a character. He had a long life. He was an icon, but also had a family, and kids," Turecek said. "He just picked a unique way of making his way through this world. He did what he had to do to get by."
The butcher-turned-pepperoni-and-cannoli-slinger was both surly and sweet. And if the college kids got frisky, he had no problem railing off in Italian.
It wasn't all rosy for Pecoraro. Sadly, he did get beat up and robbed.
"One time he came to my stand with a black eye after getting hit with a metal pipe," Turecek said. "But there he was, right at it again the next day."
On weekends he'd magically appear from nowhere to make his rounds. He'd still be out at bar close, hawking his wares, finally disappearing when he was all sold out of pepperoni or his wife's cannoli, a rich Italian pastry.
The news of his death spread quickly online and over social media, including Facebook and Twitter.
His death came as a shock for people, like me, who grew up on Milwaukee's East Side. I lived in the same neighborhood as Frank, and during the day you could catch him making the rounds at businesses or walking his dog. We'd pass each other on the street offering friendly hellos or acknowledge each other with brief nod of the head.
"I didn't know anything about him, but I knew he'd always be there," said my college friend Leslie Brown, now a social worker in Phoenix. "You could buy him a drink, he'd dance with you a bit, smile and keep it moving."
"A part of you breaks hearing this news," she said. "It makes you think. When you have people in your life like that, get their story."
Popular Milwaukee DJ Kid Cut Up, now living in Los Angeles, recalled performing with the legendary figure almost a decade ago.
"That was my best experience that I had with him. He pretty much had a mic and said 'Pepperoni! Cannoli!' while DJ Kris Loveless spun records," he said. "If you grew up on the East Side or hung our there, he is part of the Milwaukee lore, the Milwaukee story."
My older brother Tim Hoye ran into Frank a few years ago near bar close. He was out of pepperoni, but had cannoli.
"This shadowy figure came from outside the bar, and it was a man with a cooler," he said. "He could easily have been mistaken for a homeless man until you heard, 'Pepperoni cannoli!' It's an odd thing to sell cannoli at bar time, because a cannoli and a Pabst is probably not ideal, but it works in Milwaukee."
Frank is survived by his wife, Rosaria; children, Rosalia (Franco) Barbara and Salvatore Pecoraro; 3 grandchildren; 1 great-grandson. Still in mourning, Frank's children declined to comment for this story, simply saying they want their father to rest in peace.