Paul Qui's cooking has wooed diners at Austin, Texas, restaurant Uchiko. Now, the Philippines-born executive chef is also currently winning hearts and minds across America on Season 9 of "Top Chef: Texas."
In homage to the most romantic day of the year, Chef Qui suggests his version of egg-in-the-hole as the sweetest way to feed your Valentine. It's even a little bit tastier if it's served as breakfast in bed.
"If this dish isn't perfect for that cause, it makes a hell of a hangover cure too," says Qui.

Egg-in-the-Hole
Ingredients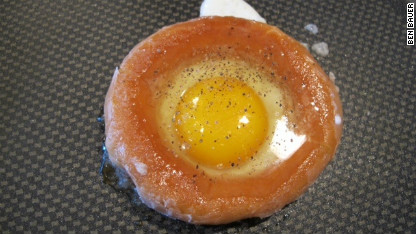 Cooking Directions
Using a round cutter, make the center hole of the doughnut slightly larger. In a pan, over low heat, crack the egg into the hole and season with salt and pepper to taste.
Cook for 2 minutes per side or until the egg is cooked. Top with shredded Gouda while hot. Drizzle with bourbon maple syrup.
Dress arugula with olive oil, lemon juice and zest to tast;, season with salt. Top with the crushed Marcona almonds and crumbled bacon (instructions below).
For the bacon and Marcona almonds: Render the bacon in a pan over low heat until golden brown and crisp. Reserve bacon fat and toast the almonds in bacon fat. Crumble bacon and crush Marcona almonds with a knife.
Mandy Morris previously wrote about making the perfect hard-boiled egg.