Some sushi lovers are extending their passion for Japanese cuisine into the world of arts and crafts. From clothing to candles and jewelry to children's toys, rice rolls and sashimi are inspiring all manner of crafty marvels.
Giulia Negro, a 24-year-old Italian, fell in love with sushi years before she tasted it. "I love sushi's elegant shape and vibrant color. I decided to explore making bracelets," she said.
Sarah Worley lived in Japan, but only when she returned to her native United States, did she find sushi that she had never seen in Japan - uramaki with rice outside the seaweed. Now, her handmade "inside-out" sushi earrings seem to have almost as many fans as the rolls themselves.

Canadian artist Sophia Molnar has lived in Japan for nearly 14 years and became inspired by the presentation of food in her adopted country.
"When I first saw tiny plastic food replicas that only the Japanese could do so well, I had an 'Aha!' moment," she says. Molnar borrowed the concept and makes rings featuring sets of mini-sushi, complete with tiny chopsticks.
Kate Heffer's knitted sushi first started as an experiment, but soon she was selling her woolen California rolls when a mother purchased half a dozen as a Christmas present for her sushi-loving daughter.
Embracing sushi and arts and crafts helped Cheryl Murakami start a business in 1996. She had an idea of rolling beeswax to make candles that resemble sushi - her favorite food. Using sushi-making techniques learned from her Japanese mother-in-law, she began selling the candle sets in bento boxes. They were the first product she started selling from her Hawaii-based candle business.
Among all the quirky things that sushi has inspired people to create, Carolyn Caffelle's hand-made sushi onesie may still be the most outlandish. Or, at least that's what her husband said after seeing their baby dressed as a raw salmon and rice nigiri.
"I wanted to eat sushi all through my pregnancy so it seemed fitting to dress her up in the one thing she didn't let me have," jokes Cafelle. The creation later proved to be one of her most popular, with over one hundred costumes sold last Halloween.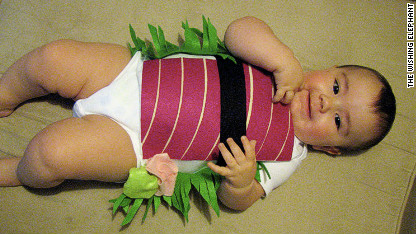 See all our Japan Eats coverage and get more on CNNGo