If at some point my rapidly advancing decrepitude becomes just too much for me to bear, I'm not too fussed. I have a plan. I'm going to quit my job, my home, my life up North and seek employment at the first outpost of the K&W Cafeteria chain that will have me. By all reputable accounts, no one who works there has ever aged so much as a day since they opened in 1937.
I have no empirical proof that this is true. I've only been aware of the existence of the K&W for the past seven years, but I've been privy to enough anecdotal accounts to suggest that the "congeal" molecule in a K&W tomato aspic is the key to life eternal. This was, in fact, a discovery made by the owners - members of an alien race who came to Earth many decades ago to study us and keep us in their sway via the power of luscious gravy, sweet tea and reasonable prices on classic Southern cafeteria-style food. And, I'm cool with it.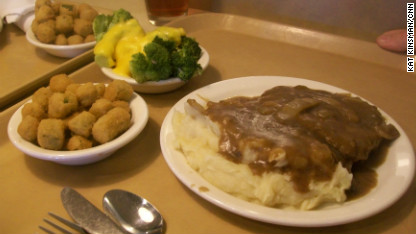 I enter into evidence the fact that many reliable sources (including my very own husband* and several respectable, if slightly over-bourboned Southern food scholars) have maintained that the exact same employees have been manning the hot meat and roll stations for at least the past three decades - and have remained exactly 76 years old the entire time. As does the faithful clientele, who've earned K&W the nickname "Kanes & Walkers." Fun fact - many of them are in fact deceased, but remain animated through the use of fancy church hats and weekly Sunday infusions of souffled yams and carrot ambrosia. Hooray alien science!
I also submit to the jury that the entire front of house staff in any given location is possessed of a dialect unheard outside the confines of a K&W. "Mehepyewpleez?" (May I help you, please?) "Youwannameat?" (Would you like any meat?) "Graveeewhutelse?" (Would you like gravy, or any other item behind the glass?) "Whiiiiiordar?" (White or dark meat fried chicken?)
And I understand it! Every word! It's because they're bypassing my ears and speaking directly into my heart and cerebellum.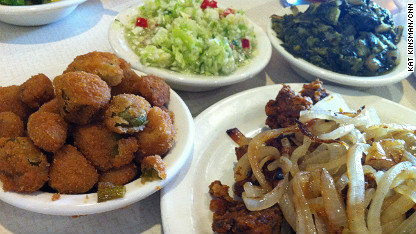 I must believe this - I need to believe this, lest I actually have to take moral responsibility for taking a day off work last June to fly from Brooklyn to Chapel Hill because I could not stop thinking about K&W vegetable congeal, fried okra, chicken livers and gravy. I'm a nice lady who eats non-dressed green salads and mostly says no to dessert and quit drinking soda. How else to explain my shameful gluttony upon entering the establishment, and almost militant insistence that we drive to the nearest K&W immediately upon arrival in North Carolina - even before we see our friends and family?
It is clearly the work of aliens. And science. And magical, life-giving wiggly salads that may carry the answer to life, itself.
Now take me to your feeder.
*I did not marry him just because his last name begins with a W and mine with a K - though it surely does not hurt.
Note: Nope, K&W didn't pay a single dime for this write-up. I honestly love them that much. In fact, I love them enough that I wrote a story about them in the most recent issue of the Southern Foodways Alliance's Gravy Foodletter.