It takes a few people to flip a smoking hot hog. That's just plain old physics, but nobody seems to mind. Mostly because if there is indeed fire, a whole pig and at least couple of like-minded individuals tending to such things, there's generally a certain quantity of beer or brown spirits in the vicinity. Just to be social, of course.
Cooking a whole pig down into hunks and strands of sopping, succulent barbecue doesn't just take an hour or two. Sure, you could stick a hunk of pig meat into a microwave for a few minutes, and have some hot meat, but that is as close to whole hog barbecue as a Little Debbie is to Lady Di's wedding cake.


It takes skill, brawn, expertise and experience. It also takes plenty of time, building up a burn barrel of coal and wood, cutting the carcass so it sits just so over the heat, then injecting or rubbing it for added flavor (that's their business, and good luck trying to get a pitmaster to give up the secret of their signature blend).
After that, it's got to be hauled on out to the smoker or pit, flopped into place and left alone. It's often said that if you're looking, you ain't cooking – and it's an awful lot of work not looking. Luckily, there never seems to be a shortage of people who are willing to stand around helping with that.
A pitmaster can't stray too far from their fire, which at some point will need to be replenished. So, their selfless compatriots, god bless 'em, will agree to stand around throughout the night to drink and jaw and get a little bit dumb, and offer counsel and muscle when their friend does have to lift open the rig to baste, turn, foil-wrap spots that are beginning to burn and get temperature readings from all over the animal.
And yes, sometimes, that hog has got to be flipped. It's wet, hot dead weight and there's no way it won't get a little messy. But again - no one seems to mind, because they know what's in store twelve to twenty hours later. Heft...grunt...THUNK. Glad that's over; who needs a beer?
When the inside readings are just right, the skin is crisped, and the whole thing just feels right to the pitmaster's all-knowing eyes and hands, that bleary-eyed, scratchy-throated crew will haul it off the heat, throw it down on a table and begin to pull off choice bits while the hordes come up and start to pick at the carcass. A crowd has surely built by now. If they haven't been lured in by the heady perfume of woodsmoke and pig fat, word has just somehow spread: come over, we're having a pig picking.
A whole hog is a beast for being social. That much meat is cause for a celebration in and of itself, or it might be the centerpiece of a fete – a graduation, a birthday, a wedding. No matter the genesis, it's a good freaking time, and people grin like crazy as they jam thick ropes of meat into one another's mouths in feral communion.
There are generally buns and slaw and baked beans about and people eat them to be civilized, but really, they just want to sneak back and back and back for another bite. Ideally, they can assemble one that's the perfect alchemy of floppy, sloppy meat and crisp, smoke-snapped skin, with just a light kiss of tangy vinegar sauce, but they might need a little counsel from the pitmaster.
Good luck with that. If they're not mobbed by a throng, they're slumped over in a stupor of pig fat, brown liquor and a night spent tending to your lunch. Let them nod off in peace; they deserved it. Just save them enough for a sandwich later - if it hasn't been all hogged down.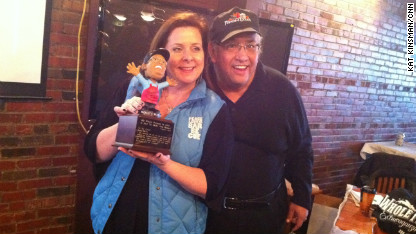 Organizer Amy Mills and Famous Dave
Images and videos above were taken at the BBQ MBA seminar at 17th Street BBQ in Murphysboro, Illinois. Our managing editor spoke about social media for barbecue pitmasters, then got to sample five different styles of whole hog from pitmasters around the country. She's still in a pork coma.