Welcome to round six of Spouse vs. Spouse, a series in which a couple of married food freaks, CNN's Brandon and Kristy Griggs, square off in their Atlanta kitchen for culinary bragging rights – and invite you to weigh in too.
In each installment, Kristy and Brandon each make a creative variation on the same ingredient or dish – everything from pasta to seafood to cocktails to desserts. We serve both versions anonymously to our friends, who then judge which one they like better and why. We walk you through our kitchen process, bring the husband-and-wife smack talk and, of course, keep score. We also share our recipes here so that you can try them for yourself.
Our theme: Holiday cocktails



Kristy: Sure, most people love the holidays. But let's face the truth: it's the drinking part that makes it extra merry. Between office Christmas parties, fighting crowds at the mall, wrapping presents and family "togetherness," some of us are practically drooling with anticipation at the sweet clink of ice cubes into a glass. (OK, maybe not drooling, that'd be weird.)
So after trying our hands with holiday appetizers – the less said about that, the better – Brandon and I attempted to make cocktails that say ho-ho-ho and ease some of that holiday stress. You won't see any champagne in flutes with cranberries hanging out at the bottom-Martha Stewart has her own blog, I think.
Unlike my appetizer semi-disaster, I came up with a cocktail idea pretty easily. I knew I wanted it to be refreshing and simple, but something that tasted amazing and captured the essence of the holiday season. What says that better than candy canes?
So I decided to rim a tumbler (a double old-fashioned glass, if you're picky) with crushed up candy canes - margarita style – toss in some ice cubes and add a lovely mixture of gin, elderflower liqueur and some homemade rosemary-and-lemon simple syrup (light on the sugar).
Knowing what Brandon was dreaming up, I felt fairly confident I'd pull out a win.

Brandon: I'm the first to admit I don't know much about winter cocktails. I'm a summer-drink kind of guy. So when I started thinking about cold-weather holiday drinks, my mind ran through all the usual suspects: spiked eggnog, hot spiced cider, hot buttered rum. Tasty enough, but - yawn.
I realize that for many drinkers on a cold day, it's hard to improve on a good bourbon, brandy or Scotch. They've got flavor to burn, they warm you up and unlike eggnog, you can drink more than one without feeling sick. But unless I was going to set up a distillery in our two-bedroom apartment, that kind of drink wasn't going to work as something original. Here's your glass of Hennessy! I poured it myself!
Then I remembered a New York Times recipe I'd saved from last December but never tried. It was for a milk-based drink, which sounded risky but intriguing. So I played around with it, changed a few ingredients, and - blammo - I'd made, well, a risky milk drink.
Basically, it's milk with dark rum, a spoonful of maple syrup, a splash of mint and a sprinkle of nutmeg. To reinforce its white, wintery look, I served it with ice cubes made of milk, which bobbed in the glass like little marshmallows. I called it a Snow Day.
Judging: The judges loved Kristy's Candy Cane, giving it the highest score of the night. Our friend Dori said, "love the rosemary flavor - very original and festive," while her husband Richard who said he doesn't normally like gin drinks said it "became better with each sip."
Brandon's Snow Day also went over well, with judges complimenting the milk ice cubes. Lindsay said, "it felt like something I'd be served in a sled, wrapped in furs." But Dori said she would have preferred it as a dessert drink and Lindsay's partner Rich thought it "looked like a glass of milk."
Winner: Kristy's Candy Cane
Overall score to date: Kristy pulls ahead with 3, Brandon has 2, and there's 1 tie
Parting thoughts:

Brandon: It's hard for me to admit this, but hers was better. Great job, baby. Your food-photography skills are improving, too – last time your cherry tomatoes looked like they were hiding behind your salmon cake because they were too embarrassed to be seen with that thing.

Kristy: Ha, ha. Very funny. I fully admit that photo didn't do my app any justice, but have you had a good look at your milk-drink picture? P.S.: A milk drink, really?

Brandon: I know, I know. I was courting trouble serving a glass of spiked milk to grown-ups. If I had served it warm instead of over ice, we all might have been ready for a nap.

Kristy: Good thing there was more of my Candy Cane on hand to combat the fatigue.
On to the recipes!
Kristy's Candy Cane
Makes 8 drinks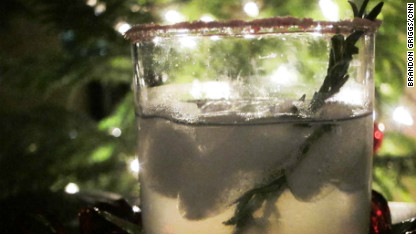 1 large peppermint candy cane, crushed into fine powder
Double old fashioned glasses
4 cups water
5 sprigs of rosemary
Juice of 1 lemon
1/4 cup to 1/2 cup sugar (according to taste)
Ice cubes
Gin
Elderflower liqueur
Crush candy cane into fine powder (I found that a mortar and pestle works best). Spread candy cane powder evenly on small plate. Using your index finger, wet the rim of each glass with water and dip the rims into the candy cane like you would for a margarita.
Chill in freezer.
Combine water and 4 rosemary sprigs in a small pan and bring to a boil. Add lemon juice and reduce heat to medium. Let cook five minutes and taste to make sure both the rosemary and lemon flavors come through. Add more of either if needed.
Add 1/4 cup of sugar and cook until dissolved. Taste to determine how much more sugar to add. You don't want it to be too sweet–the candy cane will take care of that. The sugar should compliment the rosemary and lemon, not detract from them.
Remove syrup from burner and let cool at room temperature or, if you're in a hurry, pour into a container and chill in freezer.
Add ice cubes to the glasses.
Ladle 1/2 cup of rosemary/lemon syrup into glasses. Pour 1 ounce gin in each glass. Top with a splash of Elderflower and a sprig of rosemary.
Brandon's Snow Day
Makes one drink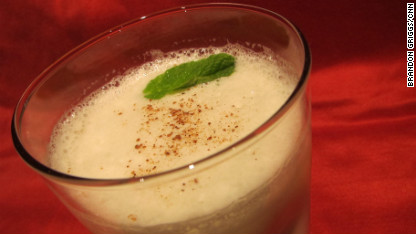 1 part dark rum
3 parts milk
Tray of milk frozen into cubes
1 teaspoon maple syrup
Splash mint bitters or peppermint extract
1 small egg white
Dash nutmeg
Mint leaf, for garnish (optional)
Shake all ingredients, minus the milk cubes, in cocktail shaker until frothy. Pour into tumbler or double old fashioned glass over milk cubes. Sprinkle a little powdered nutmeg on top and, if you like, add a mint leaf for garnish.
Previously: Holiday appetizers and the only holiday drinks guide you need