Welcome to round five of Spouse vs. Spouse, a series in which a couple of married food freaks, CNN's Brandon and Kristy Griggs, square off in their Atlanta kitchen for culinary bragging rights – and invite you to weigh in too.
In each installment, Kristy and Brandon will each cook a creative variation on the same ingredient or dish – everything from pasta to seafood to cocktails to desserts. We'll serve both versions anonymously to our friends, who will then judge which one they like better and why. We'll walk you through our kitchen process, bring the husband-and-wife smack talk and, of course, keep score. We'll also share our recipes here so that you can try them for yourself.
Our theme: Holiday appetizers



Brandon: It's holiday party season, for better or worse, and if you see one more recipe for a cheese ball or baked brie appetizer, you might spit up your eggnog on your ugly Christmas sweater - and no one wants that. So we're here to help. Kristy and I are facing off in the kitchen over holiday party food, and we've both tried to create something you haven't seen often. Or maybe ever.
I aimed for a variation on the potato cake and caviar canapé you sometimes see at fancy shindigs. No, not that outrageously expensive little black caviar - we're in hard economic times here - but the large red salmon eggs that look like holly berries and cost about $15 for a little jar. Not cheap, but doable for a special occasion.
What set my canapé (wow, that's a stuffy-sounding word) apart, though, was an odd ingredient: roasted kale. The idea was inspired by a recent chat I had with one of the best cooks I know: my brother Barklie, who said he likes to roast pieces of kale with olive oil, salt and lemon until the greens turn into crispy, healthy little snacks. Sounds kind of weird, right? But I made them myself, and they're surprisingly tasty.
So after several disastrous rehearsals I finally taught myself to make decent little potato pancakes (adapted from a Joy of Cooking recipe, but with garlic). Then I topped each one with pieces of the kale, a dollop of crème fraiche and a tiny spoonful of the caviar. The result was a pleasing study in contrasts: warm and cool, soft and crunchy, white and green and red. Christmas colors! Kristy took one look and made a face like someone just handed her a lump of coal.

Kristy: Oy! This holiday appetizer competition made wrapping presents for 24 hours straight seem attractive. I had a very hard time deciding what to serve. Part of the issue was that I knew our judges - two discerning couples, including our friend Lindsay, who is an awesome cook - were going to be tough. Also, I wanted to pair it with the cocktail I was serving (part 2 of our holiday smackdown, coming soon!) which was an organic, farm-to-table drink.
So in the course of 10 days I did trial runs of goat cheese tarts, a farm egg, a tomato-and-avocado terrine, chicken tikka masala lettuce wraps, and finally, pickled cherry tomatoes with a layered, steamed salmon cake (it looked more like a tiny dessert cake rather than the fried kind). Finally I thought I had a potential winner, and I went into the day of the event feeling confident.
But at the last minute Brandon miraculously pulled his potato cake together. And on the other hand, the salmon I bought wasn't working with me. After steaming it and cutting it into rounds, I realized its consistency wasn't going to survive my layering idea. So I decided to cover each cake with a caper-and-garlic-based frosting. The result was tasty, but I knew that Brandon's looked better. (I was competing with food that looked like holly berries.)
When Brandon trotted out his concoction, with the little red salmon eggs glowing on their beds of green kale, I had to excuse myself to the kitchen as our guests fawned. I knew I was in trouble.
Judging: Seduced by our cocktails and maybe some holiday cheer, our four judges were graceful and complimentary. They called Kristy's salmon cakes "light and unique," and said Brandon's potato-caviar canapés "looked amazing." Both plates of apps were pretty much gobbled. But when we tallied up the point totals, there was a clear favorite.
Winner: Brandon's potato-and-caviar canapés
Overall score to date: We're all tied up! Kristy 2, Brandon 2, with 1 tie
Parting thoughts:

Kristy: Many of the judges said Brandon's app was more inventive. I hate to point out that it was based on a recipe, while my salmon cakes were 100 percent all mine.

Brandon: Yeah, but that recipe didn't have crispy kale in it. Genius!

Kristy: Really? You're going to go there? Caviar is cheating. And that kale was your brother's idea.

Brandon: But he never suggested adding it to a recipe – that was all me. You're just mad because your 2-0 lead evaporated faster than the turkey in "Christmas Vacation."

On to the recipes!
Brandon's Potato-and-Caviar Canapés
Makes 2-3 dozen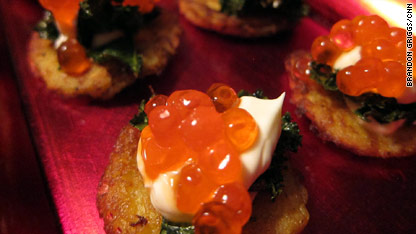 2 cups uncooked Yukon Gold potatoes, grated or finely chopped
2 tablespoons chopped onion
2 tablespoons chopped garlic
2 tablespoons flour
2 eggs, lightly beaten
1 teaspoon salt
1 bunch of fresh kale
1/4 cup olive oil
8 ounces of crème fraiche
50 grams (1.75 ounces) of salmon caviar
1 ounce truffle oil
Peel potatoes (about six) and grate or chop them, fairly finely. (I got lazy and used a food processor to chop them, which worked surprisingly well, although don't purée so long that the batter gets runny.) Mix in large bowl with onion, garlic, flour, eggs and salt.
Preheat oven to 450 degrees. Rinse kale and tear into about 30 bite-size pieces. Coat lightly with olive oil (I did this by putting the kale pieces in a large plastic bag with 2-3 tablespoons of olive oil and shaking the bag until the greens were coated.) Spread on a baking pan, sprinkle with salt and roast until crispy, about 8-10 minutes.
Heat oil in large pan on medium-high. Add potato cake batter in small round dollops about two inches wide. Cook about 3-5 minutes on each side, flattening cake to about 1/4-inch thickness with spatula, until golden brown and crispy on the edges. Dry on paper towels. Brush lightly with truffle oil.
Top cakes with kale, then a dollop of crème fraiche and finally a small amount (about 1/4 teaspoon) of the caviar. Serve immediately.
Kristy's Salmon Cakes with Pickled Tomatoes
Makes 15 cakes and 30-40 cherry tomatoes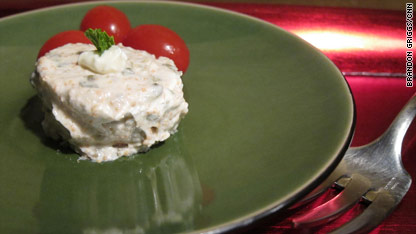 Pickled tomatoes (from Epicurious)
3/4 cup apple cider vinegar
3/4 cup water
4 teaspoons kosher salt
2 teaspoons sugar
1 strip of lemon peel (removed with a vegetable peeler)
12 ounce cherry or grape tomatoes
1/4 cup coarsely chopped dill (don't skip the dill, the flavor is key)
2 garlic cloves
1/4 teaspoon dried crushed red pepper
Combine the vinegar, water, salt and sugar in a pan and bring to a boil, stirring to dissolve sugar and salt. Remove from heat. Cool 20 minutes.
Pierce tomatoes with a wooden skewer. Toss tomatoes, dill, garlic and crushed red pepper in a large bowl. Add vinegar. Let stand at room temperature for at least 4 hours and up to 8 hours. (I let them pickle overnight - 8 hours at room temperature and the rest of the time in the fridge.)
Salmon cakes
You will need a small - no larger than 2 inches wide – rounded biscuit or pastry cutter
2-3 thick salmon fillets (cut in half lengthwise)
1 tablespoon olive oil
1 jar of capers
2 garlic cloves
1 tablespoon olive oil
Pinch of salt and pepper
2 tablespoons crème fraiche
Fresh green herbs - mint, chives or basil
Greek-style caviar spread (I used Taramosalata, a Greek-style spread made from the delicate roe of carp. It's usually $4.99 for a jar)
Fill bottom of a medium-sized frying pan with 1 to 1-1/2 inches of water. Drizzle in olive oil and bring water to a boil. Place salmon in pan and cover with a lid for 7-10 minutes until fillets are done.
Remove fillets from pan to a plate and let cool.
Combine capers, garlic cloves and olive oil in a food processor (if you don't have a processor, finely chop and combine well).
In a small bowl, combine four tablespoons of the Greek caviar spread with two tablespoons of the caper mixture until you've got a thick spread. You may need to make more depending on the size of your salmon patties.
Using a 1 1/2-inch wide, round biscuit cutter, cut out patties from salmon and place on a separate platter. Using a butter knife, frost each cake with the caper spread. Refrigerate for an hour. Top with a dollop of crème fraiche and a shred of green herb such as mint or chives.
Serve chilled with side of cherry tomatoes (the flavor of the dill should really come through and combine very well with the salmon cakes).
Next up: Holiday cocktails