5@5 is a daily, food-related list from chefs, writers, political pundits, musicians, actors, and all manner of opinionated people from around the globe.
On the seventh day of December, Eatocracy gave to me: a gift guide full of brewskis!
Kevin Diedrich, the bar manager of Jasper's Corner Tap & Kitchen in San Francisco, has made a list (and checked it twice) for a very hoppy holiday season.
Five Brew-centric Gifts: Kevin Diedrich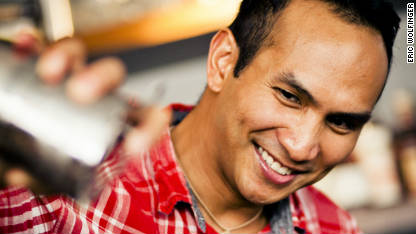 1. Give the gift that gives every month!
"Sign them up for a monthly beer club. My favorite site is the Microbrewed Beer of the Month Club. You can choose from four different membership types. Expand your palate and your home bar month to month."
2. Buy them the Michael Jackson (not the singer) "Ultimate Beer" book
"Michael Jackson has written some of the best beer books and whiskey books of all time. Plenty of color pictures for the visual learners and lots of useful facts for the geek. The books aren't in print anymore and are a bit hard to find now. But definitely worth the time and money to find."
3. For the beginner: a homebrew kit
"I've found that Coopers Homebrew Web site has a great selection of starter beer kits. The site breaks down the types of beers for all newbie brewers."
4. For those tailgate parties in your living room
"Custom coozies are always great. One of my favorite bars in the city gives out coozies to keep your beer cold while you watch the games. Keeping your beer cold and personalized so no one steals it. BeerKoozies.com is the site to hit up."
5. Arrange a tour of your local or favorite brewery
"Breweries always have the hidden gems on site and a lot of geeky beers that aren't sold to the public. This is the most fun, to see the beer being made, smelling all the hops and then drinking all the finished product."
Is there someone you'd like to see in the hot seat? Let us know in the comments below and if we agree, we'll do our best to chase 'em down.