CNN Presents: A Larry King Special: Dinner with the Kings airs at 8 p.m. ET Sunday.
So, you're having a few guests over for dinner. No big deal - it's just Conan O'Brien, Tyra Banks, Shaquille O'Neal, Seth MacFarlane, Jack Dorsey, Quincy Jones and Russell Brand, and in this scenario, you're Larry King. Really, who else could assemble such a star-studded bunch, and really - are you gonna just serve them meatloaf and mashed potatoes?
Larry King and his wife Shawn called upon celebrity chef Wolfgang Puck and his culinary team led by Chef Matt Bencivenga to assemble a five course meal, reflective of Puck's philosophy of serving fresh seasonal ingredients, sourced from local markets.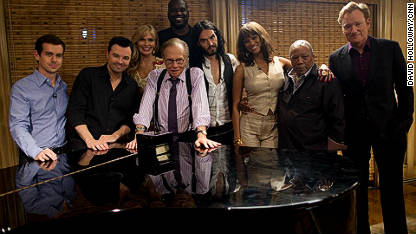 They arrived at an array of seasonal dishes as well as a few of Wolfgang's classics, including Spago's signature smoked salmon pizza with dill crème fraiche and caviar, mini burgers, sesame miso cones filled with spicy tuna tartare, and a whole wild king salmon the chefs filleted on-site in the Kings' kitchen.
Actor Russell Brand certainly didn't leave hungry. Puck and his team crafted meat and seafood-free dishes specifically for the famously vegetarian actor - who, according to fellow guest Shaquille O'Neal, returned the favor in a ribald fashion.
O'Neal tells CNN that Brand, "Went upstairs and went through Shawn King's underwear drawer. He even had the nerve to bring down a few surprises. I was laughing so hard it hurt."
The former NBA star dished on his fellow guests, saying, "I was able to do a little entertaining of my own, with the help of my good buddy Conan O'Brien. I had just filmed his show earlier that evening so we clicked from the start and were making everyone laugh all night"
He continued, "I connected well with everyone. Quincy Jones is amazing, with all his Grammys and best-selling records, I have always looked up to him. Tyra Banks is an icon. Seth McFarlane has one of the funniest shows on television; I need to make a guest appearance on Family Guy sometime soon. The founder of Twitter, Jack Dorsey and I share a mutual respect. He once said, 'Twitter wouldn't be where it was today without you.' That was really humbling."
As if we needed additional proof - it's good to be king: Larry King.
CNN Presents: A Larry King Special: Dinner with the Kings airs at 8 p.m. ET Sunday.