It may not have been pretty, but it sure was delicious and four days after the fact, I'm still dreaming about this meal. We do an awful lot of asking people to finish the sentence, "It's not Thanksgiving without..." but I suppose I've never answered the question here myself.
That'd be the plate above, laden with turkey, my husband's squash casserole, and sweet potatoes, barbecue and collard greens made with skill, practice and a whole of love by my friend Eric. He's a talented cook to be sure, but I happen to believe he's got a certain amount of divine guidance on his side in the form of our friend Mama Diva, with whom we used to gather and eat this very meal each year.

Thanksgiving had never meant especially much to me - save for a litany of stresses, schlepping, and awkward conversations at the kids' table (even into my 20s) - until an invitation from a colleague brought me to Mama Diva's (a.k.a. Miss Ellen, a.k.a. Dr. Ellen Robinson) sprawling Harlem apartment one Thanksgiving back in 1998. She'd never laid eyes upon me before that day, but she fed me and made me feel like family, and I spent every Thanksgiving with her and her merry band of strays, freaks, neighbors, paramours and her son Junior until she passed away in early 2008.
To this day, when the fourth Thursday in November comes around, Eric, his fiance John, my husband Douglas and I gather at John and Eric's home in Astoria, Queens to savor those same dishes and raise a toast to Mama Diva. And yes - there's always room for strays.
Eric's got more about the meal on his blog (including a recipe for those collard greens), but not everyone's sitting down to such homespun fare.
My colleague Mandy Morris spent Thanksgiving chez Top Chef Richard Blais, consuming fare such as sous vide turkey, green beans with Parmesan rinds, gravy kicked up with anchovies and...okay, drooling on my keyboard here. Visit her Twitter @mandolinmorris and get the rest of the menu.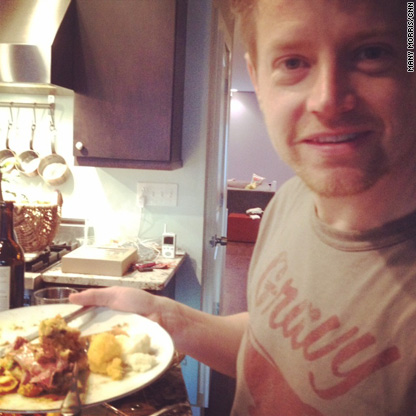 But I promised you a squash casserole recipe, didn't I? It could in no way be construed as healthy or virtuous or any of that jazz. Douglas' mother doesn't even consider it a recipe; he called her and she said, "It's not like a thing you write down - you just make it."
You heard the lady - make it. And in the comments below, share the person, place or dish that makes it a real Thanksgiving for you. We'd love to have a (virtual) seat at your table.