Behold Scottish breakfast, which was easily accessible to me all last week when I was trouncing about the West Highlands on my first proper vacation in five years. It's laden with streaky bacon, sausage, and black pudding - not as traditional as haggis, but the hotel wasn't keen on the local offerings. It also has lightly roasted garden-fresh tomatoes, a mushroom that flavor-wise could easily have doubled as beef tenderloin, a tattie scone (not unlike a potato pancake) and a fried egg straight out of a chicken somewhere in the immediate vicinity.
Now, back home, I pine for this breakfast. I sit on windowsills, staring out into the middle distance and dreaming of the day that this breakfast and I can be reunited. I have stopped just short of composing a mournful, touching love ballad starring this breakfast, but I'm fairly certain that this here counts as a mash note.

I'm not usually that much of a breakfast person - coffee and some oatmeal if I'm feeling self-serious and ambitious. But for this, I woke up voluntarily at 8 a.m. for three days in a row on my vacation, lulled from slumber by the siren song of breakfast meats.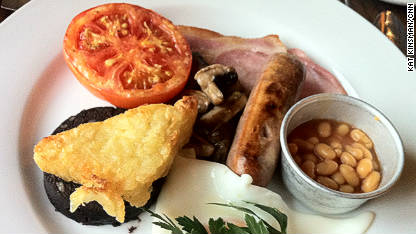 And then there was this - a full English breakfast at a pub in Yorkshire. Fried potatoes rather than the silken tattie scone, the inevitable ramekin of beans, and like its Gaelic cousin, a darned sight more compelling than the rapidly congealing bowl of oatmeal on the table in front of me right now.
Perhaps it's best that I'm an ocean away from my beloved now. Surely my arteries and wardrobe are the better for it, but for the moment, my bangers lie over the ocean and I am a wee bit sadder for it.
Periodically, Lick the Screen will showcase a food photo that sets our stomach rumbling. If you'd like your work to be featured, submit your pictures to the Eatocracy Flickr pool or leave a link in the comments. We'll get in touch if what we see makes us weak at the knees.