Welcome to round two of Spouse vs. Spouse, a series in which a couple of married food freaks, CNN's Brandon and Kristy Griggs, square off in their Atlanta kitchen for culinary bragging rights - and invite you to weigh in too.
In each installment, Kristy and Brandon will each cook a creative variation on the same ingredient or dish - everything from pasta to seafood to cocktails to desserts. We'll serve both versions anonymously to our friends, who will then judge which one they like better and why. We'll walk you through our kitchen process, bring the husband-and-wife smack talk and, of course, keep score. We'll also share our recipes here so that you can try them for yourself.
Our theme: Summer salads



Brandon: OK, so I lost our first time out. Big deal. I made fried chicken nuggets - I deserved to lose. This cook-off will be different, because 1) I know salads, 2) I'm fiendishly competitive, and 3) I've secretly spiked her dressing with five tablespoons of salt.
Hah. No! I wouldn't do that ... yet.
So … salads. Your garden-variety salad has come a long way since I was a kid, when people glopped Thousand Island over iceberg lettuce topped with dried-out carrot shavings and forlorn tomato wedges. When even McDonald's makes a Southwestern salad with fire-roasted corn, black beans, poblano peppers and chili-lime tortilla strips, you know the bar's been raised.
I've made a lot of basic salads over the years, but I knew I'd have to do something special this time to impress our judges. I got my inspiration from a buddy in Maine who, during a phone call this summer, told me he was sautéing freshly caught scallops in blood orange oil. I had never cooked anything with scallops in my life and I didn't even know they made blood orange oil, but that combo sounded pretty good.
The key, I learned in road-testing my dish, is using firm scallops that come fresh, not frozen (the frozen ones can get mushy). I served the sautéed scallops over a bed of spring mix with roasted asparagus, sliced mango, pistachios for texture and some fried prosciutto chips for a little bacon-like flavor. And I topped the whole thing with a blood-orange vinaigrette.
I wasn't sure how it would all work together, but Kristy got real quiet after tasting my salad in our rehearsals. She was nervous, I could tell. I had her on the ropes! How could she possibly compete with scallop-mango-bacon goodness?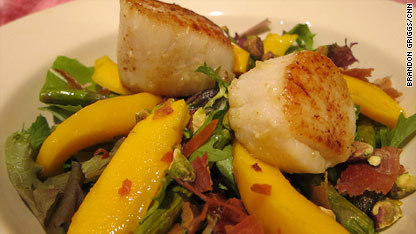 Kristy: It's always interesting to hear how my husband interprets my behavior - and I'm the first to admit there's plenty of room for interpretation. But being "nervous" about his scallop salad is a stretch. I was impressed by his determination, but it was clear that once again he was playing it safe. In fact I encouraged him to get more creative with his ingredients, since I knew my salad was going to cream his in the flavor department.
When we chose summer salads I immediately thought of roasted peaches (we do live in Georgia). I also was determined to move away from chicken, since I seem to be roasting them every other week. My first choice was pork belly, which I thought would be a great, unique pairing with peaches. So I went to a local butcher shop, bought a slab, brined it for two days and tried to cook it. Tried … and failed miserably. I don't know where I went wrong, but the thing was just one big, tough rubbery mess.
So with a week to go, I bagged the belly and let my mind wander. Somehow it landed on mole - the spicy, chocolate-based Mexican dish. I found a beef mole recipe on Epicurious, made a few adjustments and then served it over lettuce with roasted peaches, goat cheese, almonds and a tomatillo-lime vinaigrette. I knew it sounded unusual, but somehow the whole thing worked.
The judging: At our request, our three friends/dinner guests/guinea pigs scored our salads in three categories: taste, presentation and originality. Brandon scored higher on presentation - mango slices, so pretty - but Kristy won on taste and creativity. Who's ever heard of a beef mole salad? With roasted peaches?
In their written comments (we'll do this Zagat-style), the judges called Brandon's salad "rich yet refreshing" but thought it was "not as reality-show worthy" as Kristy's creation, which they called "super original," "unexpected," and "very yummy."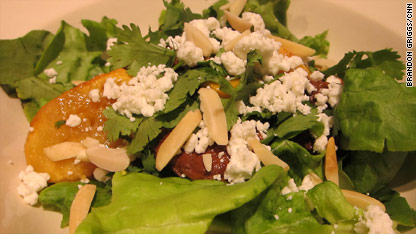 The winner: Kristy's beef mole salad
Final Thoughts
Score to date: Kristy, 2-0
Kristy: My two-time-loser husband is going to have to step out of his kitchen comfort zone if he wants to compete with my wacky combinations!
Brandon: Hey, it was very close. And one of these times, that wackiness is going to come back to bite you. What's next - peanut-butter pasta with anchovy pesto?
Kristy: Hmm, I see some possibilities there. You just keep playing it safe, dear.
Brandon: Did the Red Sox panic when they were down 3-0 to the Yankees? I'm just warming up.
On to the recipes!
Brandon's Scallop-Mango Salad
Serves 4
Ingredients
For the salad
12 sea scallops
16 ounces spring mix greens
2 bunches fresh asparagus spears
2 ripe mangoes
1/2 cup chopped pistachios
1/8 pound thinly sliced prosciutto (about four slices)
2 cups flour
1 teaspoon salt
1 teaspoon pepper
1 tablespoon ground cumin
For the dressing
1 shallot, finely chopped
3 cloves garlic, finely chopped
1/2 cup blood orange oil
1/4 cup rice vinegar
1/4 cup lime juice
splash blood orange juice
1 tablespoon Dijon mustard
1 teaspoon sugar
Salt and pepper to taste
Instructions
Remove thicker end of asparagus spears, then cut remaining ends into two- or three-inch segments. Place in roasting pan and cover with blood orange oil. Roast on upper oven shelf at 500 degrees for 8-10 minutes or until slightly crispy and set aside.
Fry prosciutto strips in a large pan on medium-high heat, several minutes on each side, until cooked and slightly stiff. Dry on paper towel until crispy; crumble into dime-size pieces. Peel mangoes and slice into strips.
Mix flour with cumin, salt and pepper and spread onto large plate. Roll scallops in flour until covered on all sides. Heat pan (preferably with any remaining prosciutto fat still in there) on medium-high. When pan is hot, add 2 tablespoons blood orange oil, place scallops gently in one at a time and cook until browned on each side, about 2-3 minutes per side. (Do not overcook; 5 minutes total should do it.)
Arrange spring mix in four bowls; add asparagus and mango strips. Sprinkle with prosciutto chips and pistachios. Place three scallops atop each salad, top with dressing and serve immediately.
Kristy's Beef Mole Salad
Serves 4
For the mole
2 small top-sirloin filets
1 tablespoon olive oil
1 half red onion, finely chopped
2 cloves garlic, finely sliced
1 tomato, finely chopped
1/2 can tomato sauce
1/2 cup chicken broth or stock (if you have homemade stock it would work wonderfully)
3 tablespoons semi-sweet chocolate chips
2 teaspoons chipotle chiles in adobo sauce
1 teaspoon ground cinnamon (I freshly ground a cinnamon stick)
1 tablespoon cumin
1 tablespoon peanut butter
1 tablespoon finely ground orange peel
For the peaches
2-3 ripe peaches
Half a stick of butter
2 tablespoons brown sugar
For the dressing
3 tomatillos
2 garlic cloves
1 tablespoon olive oil
3 limes
2 tablespoons olive oil
1-2 tablespoons sugar (to taste)
Salt and pepper
For the salad
1 head of butter lettuce
Cilantro
Goat cheese
Slivered almonds
Instructions
Mole
Rub the cumin on the filets.
Cook the filets on one side of the pan and the onion on the other side, about seven minutes on each side of the filets and until the onion begins to brown. Add the garlic (if you have truffle oil on hand, add a touch to the onion/garlic mixture as they brown). Cook the filets until they are medium-rare and the onion/garlic mixture until it is browned (not burned). Remove the filets, cut into three inch-long strips and set aside.
Add the tomato, tomato sauce, chicken stock, chocolate chips, chipotle chiles, ground cinnamon and peanut butter to the onion and garlic and simmer until flavors blend (10-15 minutes). Add the orange peel. Season with salt and pepper.
Allow the mole sauce to cool. Transfer to a food processor or blender and purée - about 2 minutes.
Transfer meat to large plastic container, pour on the sauce and refrigerate for at least two hours (the sauce should be cold enough that it adheres to the meat).
Peaches
Preheat oven to 450°F.
Peel and slice peaches off of pit (slices will be large). Place in a small roasting pan.
Melt butter in a saucepan and add the brown sugar, cooking until the butter is completely melted and the brown sugar has dissolved.
Pour mixture over peaches and place in the oven for 10 minutes or until soft but not mushy.
Dressing
Dice tomatillos and garlic and saute in olive oil until garlic is brown and tomatillos are softened (about five minutes).
Squeeze lime juice into your food process or blender, add the tomatillos and garlic and blend. Add remaining olive oil, sugar and salt and pepper to taste. Set aside.
Place about a cup of butter lettuce in the bottom of each bowl. Add two to three pieces of beef mole, two slices of peaches and sprinkle with goat cheese, almonds, dressing and cilantro. It sounds like a lot of work, but active cooking time is approximately two hours.