Putrefied shark meat. Sheep heads and testicles. Some of Iceland's traditional delicacies might challenge a few palates, but if you're looking for a little edible adventure, eating like a Viking just might be the way to go.
Long before the days of 24-hour diners and fast-food chains, the people of Iceland couldn't just run to the convenience store or make a 3 a.m. pit stop at Taco Bell.
Food options were limited in the long, cold winter, so they were eating very old food and trying to stretch it as far as they could through curing and drying. This led to some very...interesting items on the menu.


Modern Icelanders tip their hat to their strong-stomached ancestors by eating some of the traditional Viking foods of yore. Many are consumed during the midwinter feasting festival of Thorrablot. The annual event celebrates Thorri, an ancient Icelandic month during the darkest days of winter. Nowadays, it's held in February.
iReporter Halldor Sigurdsson of Reykjavik, Iceland, frequently gives us a glimpse into the daily lives of Icelanders. He shared photos with CNN iReport showing a Thorrablot feast he attended in which guests were excitedly diving into the boiled sheep heads on their plates.
Fermented shark meat, ram's testicles, head cheese and blood pudding or sausage are just a few more of the items one might find on the menu of a typical Thorrablot feast. The foodstuffs are often cut up into marbled-looking cubes. Dried fish and other products of the sea are also popular because of the huge regional fishing tradition.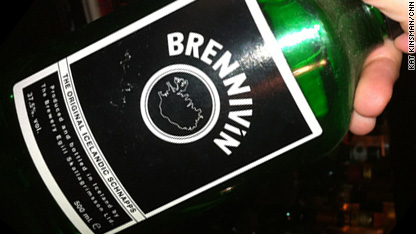 Feasters are supposed to wash down their meal with Brennivin, a signature liquor in Iceland that is also referred to as the "Black Death" due to its color. It's made from potato and caraway.
On a regular day, Sigurdsson says he prefers to eat modern-style grub at a local seafood place, and he says his fellow countrymen are eating too much fast food. Still, there's always room for a traditional meal in an Icelander's stomach.
Whether viewing endless vats of iced seafood at a summer festival or eating a smelly stewed fish concoction at Christmas time, there are plenty of opportunities to sample new and traditional meals alike in Iceland. Different people like different things, and it's hard to say if there's really a "good" or "bad" in the world of food.
"Either you love this or hate it," he said of his stewed fish meal. "Imagine a rotten fish, and multiply that smell and taste by 97, and that is the smell and taste of this strange food."
All this interesting eating is a way of giving thanks for the bounty their ancestors never knew.
"In the old time, people had to use everything they could," Sigurdsson said. "Ships did not come often to Iceland."
If you've been to Iceland, we're curious what you would recommend and what you've enjoyed. Share what you think a traveler should eat, and any food-related adventures you've had in the comments area below.
CNN's Destination Adventure series takes a look at great places for eager explorers. Each week, we'll feature favorite regional foods, secrets from the locals and the best photos and stories from readers. Have you been to Iceland?  Share your story with CNN iReport.  And next week, we'll journey to Costa Rica.