Chef Dale Talde recently shared his list of five Southeast Asian dishes he felt everyone ought to know, and halo-halo made the cut. Talde wrote:
Halo-halo
"This is my favorite Southeast Asian dessert that is essentially shaved ice. Halo-halo is the Filipino name of it and there are variations in a handful of Southeast Asia countries (Air Batu Campur or ABC in Malaysia, for example).

Instead of blueberry-flavored high fructose corn syrup (commonly served at roadside snow cone carts in the U.S.), Filipinos use fresh fruit like mangoes, jack fruit, lychee, avocado and young coconut, then tie the whole thing together with sweetened condensed milk and top it off with puffed rice."

CNN photographer Ted Pio-Roda was on vacation in the Philippines when we ran the post and lo and behold, halo-halo materialized in front of him, as if he'd used The Secret.
Who was he to ignore this message from the heavens, he thought and snapped this photograph so that we all might short out our keyboards with uncontrollable slavering. Behold the full image below and then hie thee to a place with an ice rasp.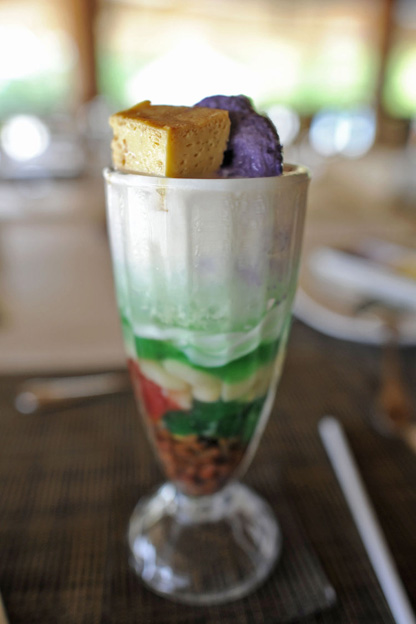 Periodically, Lick the Screen will showcase a food photo that sets our stomach rumbling. If you'd like your work to be featured, submit your pictures to the Eatocracy Flickr pool or leave a link in the comments. We'll get in touch if what we see makes us weak at the knees.