This is the debut of Spouse vs Spouse, a series in which a couple of married food freaks, CNN's Brandon and Kristy Griggs, square off in their Atlanta kitchen for culinary bragging rights - and invite you to weigh in too. Spouse vs Spouse is a combination of three things: cooking, competitiveness and long-term cohabitation (we'd say life-term, but that sounds more like a prison sentence, discuss).
Here's how it works: In each installment, Kristy and Brandon will each cook a creative variation on the same ingredient or dish – everything from pasta to seafood to cocktails to desserts. We'll serve both versions anonymously to our friends, who will then judge which one they like better and why. We'll walk you through our kitchen process, bring the husband-and-wife smack talk and, of course, keep score. We'll also share our recipes here so that you can try them for yourself.
Most of all, we hope to have fun improving our culinary skills, serving fine meals to (or at least not poisoning) our rotating panel of Padmas, Gails and Toms, and bringing the results to you.
OK, enough polite chit-chat. Let's do this.

Our theme: Chicken-based finger food.

Kristy: My husband and I have always been competitive with each other. Others may say that's "bad," but I think it's usually a healthy way to give each other a hard time. So when I got more into cooking over the last couple of years I suppose it was only natural that Brandon began feeling the itch to cook more, too.
Let me be clear up front: I am the superior cook. Brandon likely wouldn't know saffron from boron. But he's persistent - and sneaky - which is why I will be pulling out all the stops.
For our first Spouse vs Spouse challenge, we were planning on having a few friends over to our place, but our guinea pigs had a conflict that night: They were throwing a housewarming party. Not to be derailed, we decided to take to the food to them.
I took the roast chicken and veggie dish I'd been planning for weeks and turned it into roasted-chicken pizza bites, using a wheat dough recipe I found (and do not recommend).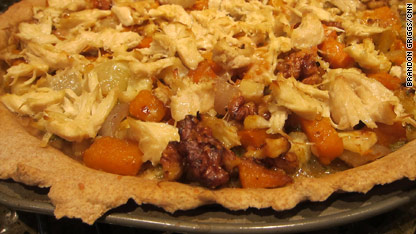 Brandon: First of all, when it comes to our "competitions," let's just say Kristy's got some catching up to do. Usually, they're not even close. Who wins all the time at tennis? At Trivial Pursuit? March Madness brackets? Predicting the Oscar winners?
I know what saffron is, Miss Superiority - I've enjoyed a paella or two in my day. But I'll be honest: When it comes to bold, innovative cooking, I'm the underdog here. I was a bachelor for a long time, and I fell into some ruts in the kitchen. Mostly, I made what was fast and what I could eat in front of the TV: grilled cheese sandwiches, stir fries, salads and a whole lot of pasta.
But I've eaten at enough good restaurants to pick up some ideas. I need to step it up, and I will. "Farm to Table" is my new middle name! I'm channeling my inner Bourdain! (Hey, I'm a poet.) Bring it!
For this first challenge, I figured people at a party would appreciate food they could eat with one hand without spilling their drinks. So I chose fried chicken bites with a sesame-peanut dipping sauce that I made from scratch using toasted sesame seeds, a blender and a bunch of other stuff. The sauce turned out great. The chicken bites, which were too small - bad meat-to-breading ratio - and overcooked, not so much.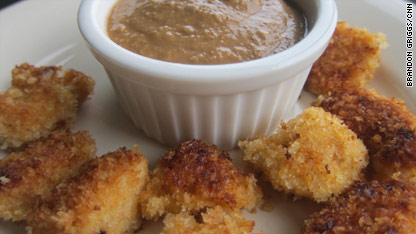 The winner: Kristy's roasted-chicken pizza bites
Final Thoughts
Kristy: Despite how hideous my dish looked, I easily beat my play-it-safe husband. Chicken nuggets, really?
Brandon: If we were serving this food to a bunch of 8-year-olds, I totally would have won.
Kristy: You shouldn't use the word "totally."
On to the recipes!
Kristy's Roasted Chicken Pizza
Ingredients
1 whole chicken (5-7 pounds)
1/4 cup olive oil
1 tsp salt
1 tsp pepper
4 garlic cloves (peeled and cut in half)
1/2 head of cauliflower (cut into small pieces)
1 butternut squash (diced)
1/2 onion (diced)
Fennel bulb (fronds removed and sliced thinly and chopped, reserve fronds for garnish)
Salt and pepper to taste
Red pepper flakes
1 cup walnuts (chopped)
Pizza dough - either store bought or homemade
Instructions
Chicken
Preheat oven to 425°F.  Rinse whole chicken and place on shallow baking pan. Combine olive oil, salt and pepper in a bowl.
Lift chicken skin (beginning at breast and working around both thighs so that the skin is loose enough for you to run your hand under it). Rub olive oil mixture under the skin, covering breast and thighs.
Tie chicken's legs together with cooking string (recommended but not necessary).
Cook chicken on middle rack until it registers 165°F at the thickest part without the thermometer touching any bones. Remove and let cool for 20 minutes.
Remove chicken (using a knife) from bones and dice.
Vegetables
While the chicken is cooking, chop garlic, cauliflower, butternut squash, onion and fennel bulbs. Place chopped vegetables on a cooking sheet, lightly salt and pepper entire sheet, then sprinkle with red pepper flakes
Drizzle olive oil over vegetables and cook vegetables on separate oven rack at 425 (same temperature as the chicken) for 35-40 minutes. Cooking times will vary, make sure squash is cooked all the way through and that the flavors have melded.
Toast walnuts in toaster oven for five minutes, or until browned. Sprinkle nuts over vegetables; when cool, transfer mixture to a bowl. Add chicken and stir mixture well.
After cooking either packaged or homemade dough, cool and cut it into 1 inch X 1 inch squares. Spoon vegetable mixture onto dough pieces and serve.
Brandon's Fried Chicken Bites
Chicken
2 lbs Boneless chicken breasts
6 oz Panko bread crumbs
3 cups buttermilk
3 Tbsp Worcestershire sauce
1 tsp salt
1 tsp pepper
1 tsp dry mustard
1 tsp paprika
1 tsp cumin
2 Tbsp peanut oil
Dipping Sauce
1/2 cup toasted sesame seeds
1/2 cup water
4 tsp toasted sesame oil
3 Tbsp peanut butter
2 tsp peeled grated ginger root
1/2 cup sugar
1/4 cup honey
1/2 tsp red pepper flakes
2 tsp garlic oil
3 Tbsp rice vinegar
Rinse chicken breasts in water and cut into marshmallow-sized pieces. Marinate in mixture of buttermilk and Worchestershire sauce, with a dash of salt and pepper, and let sit in the fridge for 3-4 hours.
Add dipping sauce ingredients to blender and mix until smooth and creamy. You may want to adjust the key ingredients to taste, depending on your sesame-peanut ratio preference and your tolerance for sweetness.
Mix bread crumbs with salt, pepper, mustard, cumin and paprika on a plate (a large zip-lock plastic bag works well, too). Coat the chicken pieces in the mixture until each is covered.
Heat the peanut oil in a large frying pan on medium-high heat. Add chicken pieces and cook several minutes on each side, turning with tongs, til light golden brown. Set on paper towels to dry. Serve on plate with sauce and enjoy.