Toying around with healthier Happy Meals is just the first step in McDonald's quest to curry favor with the nation's most influential moms.
The fast food giant announced on Tuesday that an overhaul of the chain's classic kid-targeted meal will skim down their current highly caloric offerings to include apple slices, a reduced portion of french fries and a choice of beverage, including new fat-free chocolate milk and 1% low-fat white milk. But in order to get this less fatty fare to their intended consumers, they've still got to convince skeptical, health-conscious parents to tote their tots through the the Golden Arches.

The country's arguably most prominent mom, First Lady Michelle Obama supported the overhaul, saying, "I've always said that everyone has a role to play in making America healthier, and these are positive steps toward the goal of solving the problem of childhood obesity."
Though that's certainly a coup for the company in the face of the meal's potential ban in certain areas of the country, their social media strategists aren't putting all their Big Macs in one basket. The company has taken their message to their Facebook community, more than 155,000 Twitter followers and an extremely influential corps of "Mom bloggers" to speak directly to parents who are the stewards of their children's nutrition.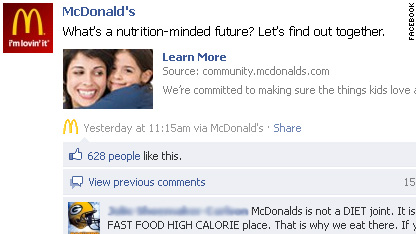 Rick Wion, McDonald's Director of Social Media told NPR's Allison Aubrey, "Mom bloggers are very networked and very linked-in. They spread information very, very quickly." He added, "Moms listen to other moms more than they listen to other folks."
To that end, the company turned to a corps of "Moms' Quality Correspondents" several years ago to receive feedback after field trips to suppliers and facilities where the chains concepts and products are developed, and published the correspondents' inevitably glowing reports on their website.
McDonald's turned wired mom-ward again last August at the BlogHer '10 conference, allowing the large, predominantly female audience of the powerful blog network to participate in - and blog and Tweet about - the national launch of their new oatmeal.
The company interacted with participants throughout the event via Twitter, using the conference's hashtag #BlogHer10 and asked BlogHer's network to join the "Make Family Time Happy Time" campaign to raise funds for Ronald McDonald House Charities - and incidentally sell Happy Meals. For each minute pledged, the company donated $.01 (up to $10,000) to RMHC, along with a portion of each Happy Meal or Mighty Kids Meal sold.
The company also brought ten BlogHer bloggers and their families to the chain's headquarters in Illinois. There, they spent a few days talking to company executives, tasting new products, visiting a Ronald McDonald House and a McDonald's and, yes, blogging afterward about their experiences on their own sites in labeled, sponsored posts.
Yesterday, as McDonald's announced their Happy Meal overhaul plans, mom bloggers were offered a seat at the table - a fact that did not escape the notice of BlogHer's food section editor Genie Gratto, who also blogs at The Inadvertent Gardener. Her post McDonald's Happy Meal: PR Stunt or Health Win? corralled mom-o-sphere reactions varying wildly from the irked or skeptical to the cautiously optimistic.
Gratto herself calls McDonald's decision to include parental gatekeepers, especially those with an enormous platform, "very smart."
She told Eatocracy, "Moms involved in social media are talking online all the time, and they're used to these campaigns. There's also so much digital marketing going on toward kids all the time and social media professionals are aware that kids may not be as thoughtful about how they process the message. Actually including moms gives them the chance to raise the dialogue a bit."
And Gratto is also aware that McDonald's may hope to benefit from this parental inclusion in a more directly profitable way, saying, "Parents may feel a little better about giving kid the meal - and they will probably buy food for themselves while they're there."
McDonald's executive Jan Fields seeks to bring the discussion from the digital to the dining room with a "Listening Tour Luncheon Sweepstakes" with winners culled from entries submitted exclusively via a BlogHer comments page. The company's Executive Vice President and Chief Operating Officer, according to the post, "Wants the best for her kids and is setting off across the country on a listening tour to learn from customers, especially moms. She'd like to hear your perspectives on family meal challenges and how McDonald's can help make nutrition choices easier for parents."
In addition to a contest requirement that entrants must state their reason for wishing to attend, a complete entry entails stating "your favorite McDonald's menu item." Clearly, they're not just clowning around when it comes to an audience hungry to be heard.