This summer, CNN's Defining America project will be traveling the country with the CNN Express bus to explore the stories behind the data and demographics that show how places are changing. This week, CNN brings you coverage from North Carolina.
If you eat doughnuts in Greensboro, North Carolina, chances are you head to Krispy Kreme.
The king of the hot glazed doughnut was founded just 30 miles away, in Winston-Salem, in 1937. Since then it's gained a loyal following regionally, and more recently, nationally and internationally. The first Krispy Kreme in New York City opened in 1996, and the first non-U.S. store opened in Toronto in 2001.
So what on earth would possess someone to open a little, independent doughnut shop in the land of Krispy Kreme?

Lean Ly, a woman who did just that, must know the answer. Her business, Donut World, opened in Greensboro last year. When I asked her if she was nervous about competing with doughnut giant Krispy Kreme, especially so near its headquarters, she smiled and answered, simply, no.
"I'm confident in my product," she added with a shrug.
Ly says what separates her doughnuts from the Krispy Kreme variety is their freshness. They're homemade from scratch on the premises every day. She says the apple fritter, for example - a customer favorite - has "a lot of apple," more than many other commercially available treats.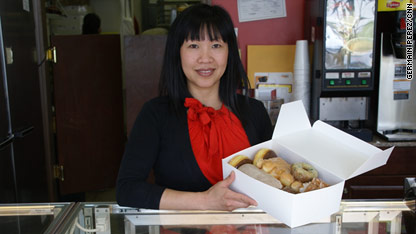 Perhaps part of Ly's confidence in Donut World comes from her background within in that very niche. She grew up in California, where her family owned a doughnut shop, and she uses the same family recipes at Donut World now. Plus, she says she's very much "into the business" aspect of owning and running the shop.
Donut World is small and unassuming, tucked into an old strip mall in the Guilford College area of Greensboro. There are only a couple of tables for seating. But on the day we visited, Ly had a steady flow of customers, most ordering an assortment of doughnuts to take home - with more than a few apple fritter requests.
Much of the shop's business is from regulars like Jennifer Short, a Greensboro resident who comes in for a treat "at least three or four times a week." And Ly says she has loyal customers who come from as far away as Asheboro - about 30 miles to the south - to get their doughnut fix.
"I really love my customers," she says, adding that the people she meets are the best part of owning a doughnut shop.
Is this customer loyalty enough for Donut World to compete with chains like Krispy Kreme?
Well, business is "good and bad," says Ly. "It's not the best." She tries to straddle the line between making a profit and not setting her prices too high. The day we visited, I bought a dozen doughnuts for $7.64 - about the same price I would have paid at a nearby Krispy Kreme. And even with business being less than ideal, Ly has recently opened a second location in Greensboro and plans to expand further in the future.
But perhaps the most important question of all: How do the doughnuts stack up? I gathered some colleagues for a taste test - which didn't take much convincing.
The light, airy glazed yeast doughnut was comparable to Krispy Kreme's original glazed - and coming from someone who was raised on those, that is praise of the highest order. It was a bit lighter in both texture and flavor than a Krispy Kreme, which could be a pro or a con, depending on your doughnut preferences.
The glazed cake doughnuts - we sampled chocolate and blueberry - were very fresh but otherwise average, as were the custard-filled doughnuts. If you prefer cake doughnuts to the yeast variety, try the unglazed cinnamon cake doughnut; it's almost like a slice of crumbly coffee cake in doughnut form.
The two standouts were the customer-beloved apple fritter and the buttermilk doughnut. The fritter did indeed have plenty of fresh apple flavor, balanced out but not overwhelmed by cinnamon and plenty of crunchy glaze. And the buttermilk doughnut was denser than most of the others but with a very light, not overly sweet flavor - a surprise to most of us.
Perhaps that's just what independence tastes like.
Poll - What's your favorite kind of doughnut? (Or is that "donut" to you?)