The Vintage Cookbook Vault highlights recipes from my insane stash of books and pamphlets from the early 20th century onward. It's a semi-regular thing.
Y'all know we appreciate the absolute beans out of you, right? When we posted the Frank and Corn Crown recipe, along with a tossed gauntlet to document your efforts at home, we were downright giddy when reader Sarah picked it up - and deftly so.
Giddy turned to gobsmacked when we realized that she wasn't the only one. So – as long as we can keep finding fun, festive vintage recipes, once a week we'll post one and double-dog-dare our readers to blog about their efforts - with snapshots of the final product. Leave a link in the comments and we'll show 'em off.

This week's selection is from the Silent Hostess Treasure book, circa 1930. The General Electric Company was eager to showcase new techniques and recipes to previously icebox-bound homemakers. Cold salads - especially aspic-based - were suddenly de rigueur for any elegant dinner party.
"Aspic," you say? Why yes. Yes we did. We've also been known to say "congealed salad" or "vegetable congeal," but only when we're visiting our North Carolinian in-laws and have the chance to pop by the K&W Cafeteria.
Basically, it's a Jell-O salad, laden with vegetables and, as they're advising in the recipe below - meat. Cold meat. The illustration above purports to contain ham, tongue and chicken, but for all we know, it could be corned otter and wildebeest carpaccio. Let your butcher be your guide and have at it.
The recipe: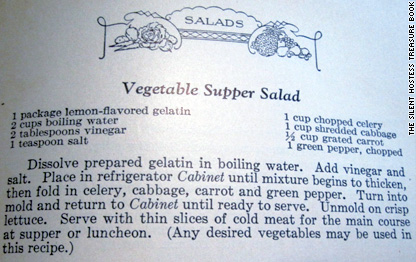 Post a link to your blog entry in the comments or upload via iReport and we'll feature your creation in an upcoming post. Now get your aspic in gear!
Vegetable Supper Salad

1 package lemon-flavored gelatin
2 cups boiling water
2 tablespoons vinegar
1 teaspoon salt
1 cup chopped celery
1 cup shredded cabbage
1/2 cup grated carrot
1 green pepper, chopped

Dissolve prepared gelatin in boiling water. Add vinegar and salt. Place in refrigerator Cabinet until mixture begins to thicken, then fold in celery, cabbage, carrot and green pepper. Turn into mold and return to Cabinet until ready to serve.

Unmold on crisp lettuce. Serve with thin slices of cold meat for the main course at supper or luncheon. (Any desired vegetables may be used in this recipe.)