If there's one thing our friends at Food & Wine do even better than throwing fabulous festivals all around the country, developing stellar recipes and generally making our lives more appetizing - it's identifying up and coming talent from around the country.

Since 1988, the editors of Food & Wine have feasted their way from coast to coast, seeking out 10 innovative chefs, each with a distinctive vision, creating exceptionally delicious food. They've bestowed upon these shining stars the title of Best New Chef. This year, the dining public has a say.
In each of the ten designated regions of the country, you - yes, YOU - may vote for the chef whose restaurant has most significantly stirred your soul and your palate. The winner of the The People's Best New Chef 2011 will be the subject of a profile in the July issue of Food & Wine and will no doubt hold you in tremendous gratitude and esteem until the end of time.
We and the editors of Food & Wine would greatly prefer that you only vote for chefs whose restaurants you've actually visited, so the "chef" part of The People's Best New Chef 2011 really holds true. See more details at foodandwine.com and let the clicking commence!
Midwest | Pacific | Southwest | Northwest | New England
Southeast | New York Area | Great Lakes | Mid-Atlantic | Gulf Coast

Courtesy of Restaurant Beck
Justin Wills
Restaurant Beck (at Whale Cove Inn) - Depoe Bay, OR
On creating tasting menus: "[Diners] get a whole meal of things that are not on the menu, created à la minute, or on a whim, just for them. From a kitchen or chef's perspective, it's fun. It's always good to really think on your feet, and when you're busy, creating a tasting menu is a mental rush."

Courtesy of Beaker & Flask
Ben Bettinger
Beaker & Flask - Portland, OR
How he unwinds at the end of the night: Coors out of the can.

Courtesy of Clyde Common
Chris DiMinno
Clyde Common - Portland, OR
Food aversion: Canned tuna. "No matter how 'good' any brand is, it is always terrible."

Courtesy of Departure
Gregory Gourdet
Departure - Portland, OR
Side gig: Hair model in ads for Bishops Barbershop.

Courtesy of Fenouil
Jake Martin
Fenouil - Portland, OR
Death row meal: Double-Double from In-N-Out Burger and hamachi sashimi.

Alexis Achten, Jasmine Photography
Jenn Louis
Lincoln - Portland, OR
On being sustainable: "We have very little waste - we compost everything, we buy whole lambs weekly that I personally butcher. Even on our busiest nights, we can fit all of our trash into one slim receptacle."

Courtesy of The Willows Inn
Blaine Wetzel
Five - Lummi Island, WA
Why he's amazing: He's taking René Redzepi's Nordic philosophy and applying it to the produce and food of the Pacific Northwest.

Kristin Zwiers for Spur
Brian McCracken and Dana Tough
Spur - Seattle, WA
Must-try dish:: Sous vide butterfish with foaming fish fumé, chanterelles, black kale and white beans.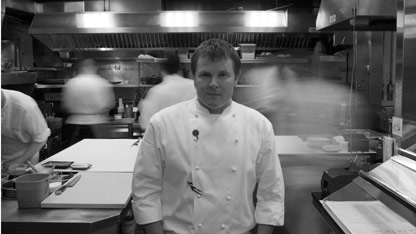 Brian Canlis
Jason Franey
Canlis - Seattle, WA
Best known for: Introducing avant-garde flourishes to a venerable 60-year-old institution in Seattle.

Courtesy of Book Bindery
Shaun McCrain
Book Bindery - Seattle, WA
Why he's amazing: His illustrious training (Per Se, Michael Mina, Taillevent) and limitless imagination produce food that's polished and exhilarating.
Midwest | Pacific | Southwest | Northwest | New England
Southeast | New York Area | Great Lakes | Mid-Atlantic | Gulf Coast
Voting starts on 2/15/11 and ends 3/1/11 at www.foodandwine.com/peoples-bnc. One vote per computer per region. Votes from any automated means or intended to disrupt the voting process (in American Express Publishing Corporation's sole discretion) will be void. Chefs with the highest eligible votes per region will become finalists (10 total). The People's Best New Chef title will be determined based on highest number of eligible votes received during the voting period. All votes subject to verification.
© 2011 American Express Publishing Corporation. All rights reserved.