If there's one thing our friends at Food & Wine do even better than throwing fabulous festivals all around the country, developing stellar recipes and generally making our lives more appetizing - it's identifying up and coming talent from around the country.

Since 1988, the editors of Food & Wine have feasted their way from coast to coast, seeking out 10 innovative chefs, each with a distinctive vision, creating exceptionally delicious food. They've bestowed upon these shining stars the title of Best New Chef. This year, the dining public has a say.
In each of the ten designated regions of the country, you - yes, YOU - may vote for the chef whose restaurant has most significantly stirred your soul and your palate. The winner of the The People's Best New Chef 2011 will be the subject of a profile in the July issue of Food & Wine and will no doubt hold you in tremendous gratitude and esteem until the end of time.
We and the editors of Food & Wine would greatly prefer that you only vote for chefs whose restaurants you've actually visited, so the "chef" part of The People's Best New Chef 2011 really holds true. See more details at foodandwine.com and let the clicking commence!
Midwest | Pacific | Southwest | Northwest | New England
Southeast | New York Area | Great Lakes | Mid-Atlantic | Gulf Coast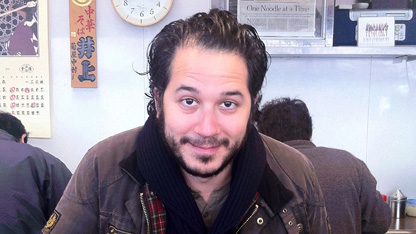 Courtesy of Roberta's
Carlo Mirarchi
Roberta's - Brooklyn, NY
Why he's amazing: Because he presents thrilling combinations of ingredients inspired by Italy but sourced, almost obsessively, locally. (The restaurant has a rooftop garden and a studio for Heritage Radio Network, which airs programs from urban foragers and farmers.)

Courtesy of The Hall Company
David Felton
Ninety Acres - Peapack-Gladstone, NJ
What he told the restaurant principals: "You're building my dream restaurant. Even if I were a dishwasher, I would want to be here."

Courtesy of Brooklyn Fare
César Ramirez
Brooklyn Fare - Brooklyn, NY
The routine: Ramirez cooks five nights a week for just 18 people at a horseshoe-shaped, stainless steel table in his kitchen.

Kirsten Luce
Michael Ginor
Lola - Great Neck, NY
Best known for: Being co-founder of Hudson Valley Foie Gras and co-author of Foie Gras: A Passion.

Erin Gleeson
Dan Kluger
ABC Kitchen - New York, NY
Superstition: He tapes a penny to his knife sheaths for good luck, a US Army superstition he picked up from his father.

Jerry Errico
George Mendes
Aldea - New York. NY
Why home chefs should try cooking sous vide: "Cooking is a science. It's evolving, and we're taking advantage of modern-day technology."

Courtesy of Sorella
Emma Hearst
Sorella - New York, NY
On her restaurant's proximity to Chinatown: "We get a lot of older Chinese people from the neighborhood looking in and giving us their nod of approval. Or sometimes just shaking their head and walking away. Or crazy people fighting over dumplings."

Courtesy of Torrisi Italian Specialties
Rich Torrisi and Mario Carbone
Torrisi Italian Specialties - New York, NY
Why they insist on domestic ingredients: Says Carbone, "In Italy, they would never use imported cheese you have to send away for. Using what's around you is the most Italian thing you could possibly do."

Elizabeth Leitzell
Tien Ho
Má Pêche in the Chambers Hotel - New York, NY
His initial reaction when Momofuku and Má Pêche owner David Chang suggested he cook at Má Pêche: "I was like, 'F- you, dude. I'm not going back to midtown.' I mean, the mentality is so different. I think we could get away with a lot more downtown than anywhere else."

Alex Moskovitz
Gabe Thompson
dell'anima, L'Artusi and Anfora - New York, NY
On his ingredient wish list: "Veal brains. I think it would be fun to do a play on some kind of classic Italian-American dish with veal brains. But I think it would be a hard sell."
Midwest | Pacific | Southwest | Northwest | New England
Southeast | New York Area | Great Lakes | Mid-Atlantic | Gulf Coast
Voting starts on 2/15/11 and ends 3/1/11 at www.foodandwine.com/peoples-bnc. One vote per computer per region. Votes from any automated means or intended to disrupt the voting process (in American Express Publishing Corporation's sole discretion) will be void. Chefs with the highest eligible votes per region will become finalists (10 total). The People's Best New Chef title will be determined based on highest number of eligible votes received during the voting period. All votes subject to verification.
© 2011 American Express Publishing Corporation. All rights reserved.