If there's one thing our friends at Food & Wine do even better than throwing fabulous festivals all around the country, developing stellar recipes and generally making our lives more appetizing - it's identifying up and coming talent from around the country.

Since 1988, the editors of Food & Wine have feasted their way from coast to coast, seeking out 10 innovative chefs, each with a distinctive vision, creating exceptionally delicious food. They've bestowed upon these shining stars the title of Best New Chef. This year, the dining public has a say.
In each of the ten designated regions of the country, you - yes, YOU - may vote for the chef whose restaurant has most significantly stirred your soul and your palate. The winner of the The People's Best New Chef 2011 will be the subject of a profile in the July issue of Food & Wine and will no doubt hold you in tremendous gratitude and esteem until the end of time.
We and the editors of Food & Wine would greatly prefer that you only vote for chefs whose restaurants you've actually visited, so the "chef" part of The People's Best New Chef 2011 really holds true. See more details at foodandwine.com and let the clicking commence!
Midwest | Pacific | Southwest | Northwest | New England
Southeast | New York Area | Great Lakes | Mid-Atlantic | Gulf Coast

Courtesy of Still River Café
Kara Brooks
Still River Café - Eastford, CT
Cooking philosophy: "We emphasize what we grow, when we're growing it, and try to present it in fun, innovative ways. It's not cooking as trickery, but at the same time there should be some fun in it."

Courtesy of Community Table
Joel Viehland
Community Table - Washington, CT
Why he opened a restaurant in rural Connecticut: "A normal restaurant has three or four suppliers. I want to source as much locally as possible, so I have 35 to 40 vendors I work with."

Kevin Day Photography
Christopher Coombs
Deuxave - Boston, MA
His kitchen strategy: "I'm super-obsessive-compulsive when cooking: Everything's organized and labeled. If you're sloppy and messy, you won't last a month in this business."

Courtesy of Coppa
Jamie Bissonnette
Coppa - Boston, MA
Why he's amazing: Because he's not afraid to challenge diners' palates with the daring nose-to-tail cooking (including calf's-brain ravioli and blood-sausage pepperoni on pizza) at his intimate enoteca.

The Liberty Hotel
Joseph Margate
Clink - Boston, MA
Why he's amazing: Because he creates irresistible, umami-rich food with a modern French bent that goes beyond standard hotel cuisine.

Courtesy of Bistro du Midi
Robert Sisca
Bistro du Midi - Boston, MA
Favorite food to eat at home: Grilled cheese with pepperoni.

Courtesy of Sensing
Gerard Barbin
Sensing - Boston, MA
Why he likes Boston: "Boston is a welcoming city with a strong identity. There are a lot of good restaurants and chefs, and a lot of strong areas for dining, like the North End, Back Bay, South End, Cambridge. The fish and seafood quality in Boston is phenomenal."

Irvin Serrano
Geoffroy Deconinck
Natalie's - Camden, ME
Why he's amazing: Because he uses his traditional Belgian pedigree to modernize French food.

Courtesy of Tallulah on Thames
Jake Rojas
Tallulah on Thames - Newport, RI
Must-try dish: "Deconstructed clam chowdah": clams, potatoes and bacon with creamy broth poured tableside.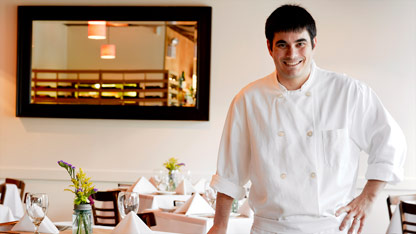 Courtesy of Rhode Island Monthly
Nemo Bolin
Cook & Brown Public House - Providence, RI
Why he wanted to open a restaurant: "[My wife and I] live to hear that unmistakable sigh when someone takes the first bite of their meal and just melts into their chair."
Midwest | Pacific | Southwest | Northwest | New England
Southeast | New York Area | Great Lakes | Mid-Atlantic | Gulf Coast
Voting starts on 2/15/11 and ends 3/1/11 at www.foodandwine.com/peoples-bnc. One vote per computer per region. Votes from any automated means or intended to disrupt the voting process (in American Express Publishing Corporation's sole discretion) will be void. Chefs with the highest eligible votes per region will become finalists (10 total). The People's Best New Chef title will be determined based on highest number of eligible votes received during the voting period. All votes subject to verification.
© 2011 American Express Publishing Corporation. All rights reserved.