Jennie Bragg is an Editorial Producer in CNN's Money Unit
My very first word was cookie - raisin cookie to be exact. Family legend goes, it came out something like, "raymee cook cook." The details are trivial. The moral of this story is that shortly after I left the womb, I discovered my first true love: carbs.
As I grew older, my meal of choice became quite obvious: the basket of bread. Who needs to order at all when the best part of a meal comes at the very beginning, for free?
And so it was, for 24 years, that I lived the life of a glutinous gluten monster - until that fateful day. After about two years of terrible stomach issues and running from doctor to doctor, I was diagnosed with Celiac Disease. That's the no-carbs-for-the-rest-of-your-life disease (or at least not the good carbs).

What is this "gluten" of which you speak?
You can imagine my disappointment, but I wasn't exactly shocked. In fact, I spent a long time thinking maybe this was something I had done to myself. The medical community has a boatload of different theories about how a person can develop a gluten allergy. But no matter what the cause, my childhood love had become my stomach's demise by adulthood.
I went cold turkey. I cut out bread, pasta, pizza, and even my favorite, weekend NY bagels with lox. The hardest thing of all was the beer. I wasn't exactly a big drinker, but I had only graduated from college two years earlier and my social life still pretty much revolved around going out and having a beer. And what now? I became the prissy girl who orders wine when everyone else has a pitcher. I hate that girl. Don't you?
I "snuck" a few beers, only hurting my tummy in the end. Ultimately, I came to the conclusion that I would much rather be the prissy girl drinking wine at the bar than the sick girl who has to go home early.
It took some time, but as my stomach began to get better, so did my attitude. I also learned how to eat. Rice is a REALLY good substitute carb. Suddenly, rice pasta, rice cakes and all things rice filled the gluten void. And it turns out, gluten-free beer exists! It is carried in about 3 bars in New York City, so you have to choose your locale wisely - but hey, there's nothing like a good rice beer.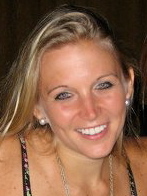 A good friend told me at the beginning of my Celiac ordeal that eating a sandwich in front of me felt like drinking in front of a recovering alcoholic - but not today. Honestly, I haven't had bread in so long, I can't really remember what it tastes like. It isn't something I crave anymore.
And when that bread basket comes to the table at a restaurant now, I don't want it. I don't need it. I know eating it will just make me sick later. Really, I'm just jealous that everyone else gets to eat before I do.
Stay tuned as Jennie spills the secret ways gluten slips into everyday foods.
Previously - Gluten defined