I collect vintage cookbooks and product pamphlets. The holidays seem like an appropriate time to inflict some of the more, uh, festive recipes upon the masses. Holly to the jolly, y'all.
Today, in 'A Treasury of Holiday Ideas from Near and Far,' distributed by the New York State Electrical and Gas Corporation, we mine a recipe for Welsh Pork Cake. It involves pork sausage, raisins, nuts, candied cherries and cream cheese frosting - seemingly on purpose. In the desserts section. Hence the "taste surprise."
Its cultural antecedent appears to be Teisen Bork - indeed a traditional Welsh dish of pork, fruit and nuts baked with flour and water - but it is not particularly associated with the Yuletide, so far as I can ascertain with my rudimentary Cymraeg. Then again, all I can really say with any confidence is "Good morning." "Good evening." "Oh look - a magnificent dragon!" and "Leeks are once again on sale at the Tesco over in Porthmadog," so I'm really not much help.

Still, meat-based cakes are hardly unheard of. Born of wartime or winter privation, these deadweight, eggless, unlovely slabs brought a measure of cheer to, say, a miner, farmer or ice fisherman in need of a solid rib stick and a hug from home. Wrapped in booze-soaked cheesecloth and periodically touched up with brandy or whiskey, the cake has a shockingly long fridge or freezer life.
Hence, all this stout-hearted kitchen practicality has me wondering what in the name of Rhys Ifans were these whackadoodles* at New York State Electrical and Gas Corporation doing getting all schmancy with green candied cherries and cream cheese frosting at the holidays.
Here's the recipe. Make and discuss.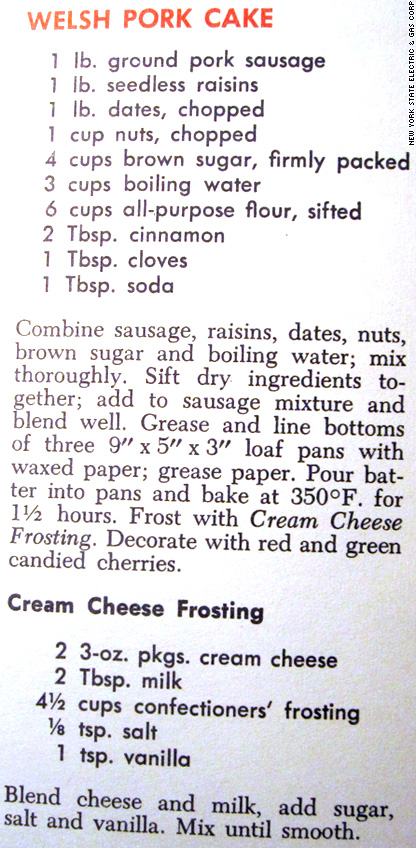 The Welsh have hardly cornered the market on pork-based cakes. Here's a coffee-amped rendition I ran across in the 1959 printing of 'Be Milwaukee's Guest, Recipes Collected and Tested by the Junior League of Milwaukee.' Wisconsinites, it seems, are not afraid to admit that their culinary flag flaps a little freakily, studding the recipe's headnote with references to its idiosyncratic flavor.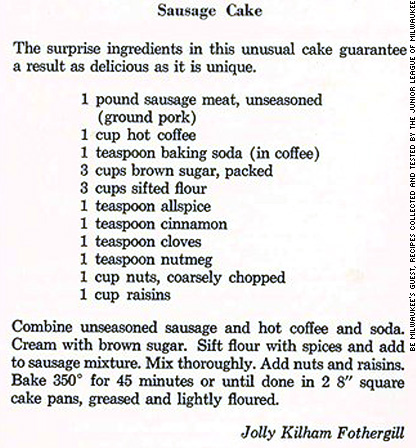 * The head whackadoodle at the New York State Electrical and Gas Corporation, it would seem.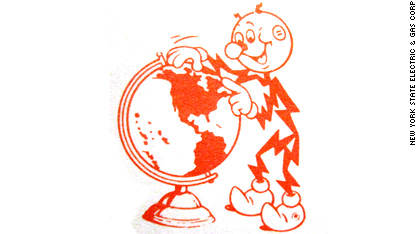 Tomorrow - aw crap, it's mincemeat