From $15.95 for an all-you-can eat Champagne Dinner Buffet to $150 for a multi-course feast from a Michelin-starred chef, few places pack as much culinary diversity into a four-mile stretch as the Las Vegas Strip.
Starting at the north end in the shadow of the Stratosphere, I set out for a low-to-high tour of what's on the T-Day menu.
First stop: Frankie's Tiki Bar, a 24-hour spot with a parking lot that was almost deserted when I stopped in a bit after noon. Seems Thanksgiving doesn't put people in the tiki mood: "I had literally like five people all day long last year," bartender Tawnya commented.
But she'd already beaten that tally by midday this time around, and she was expecting a pickup in the evening: "After people are done dealing with their families, they're ready for a cocktail."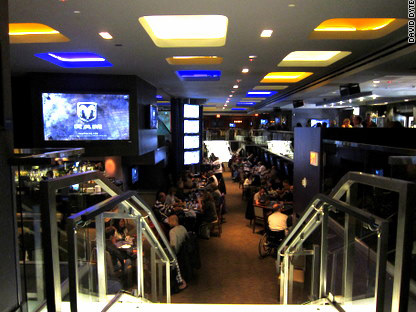 So where were the crowds? Watching football, of course. At Emeril Lagasse's Stadium - tag line: "Bar, Book and BAM!" - a line of customers was waiting for the sports-and-betting bar's 8:30 a.m. opening. On top of its usual menu (heavy on wings, nachos and $15 beer buckets), the restaurant laid on a turkey special: $18 for 3 slices of the bird plus the usual side trimmings. Traffic surged at 1 p.m., according to the hostess: Seems the Dallas/New Orleans game was a big draw.
Back on the north end, a Vegas institution - Peppermill Coffee Shop, a 24-hour diner - planned to serve its Thanksgiving dinner from 1 p.m. until the food runs out. That usually happens around 8 or 9 p.m., according to deputy manager Mickey Van Hooser, but this year Peppermill is cooking up a second batch: Reservations peaked around 3 p.m. but a second wave is slated to hit at 7. For $21.95 ($11.95 for the kiddies), the Peppermill is laying on a traditional Thanksgiving spread: turkey, stuffing, the usual sides plus mixed veggies, and a slice of pumpkin or pecan pie.
"We're trying to cook enough to feed everyone, but not so much that we have to serve turkey specials all next week," as Mickey put it.
If you're looking to drop three figures on your T-day dinner, plan to eat late. Many of the Strip's fanciest places - like Alex, Picasso and Michael Mina - are serving Thanksgiving specials, but sticking to their usual dinner-only hours.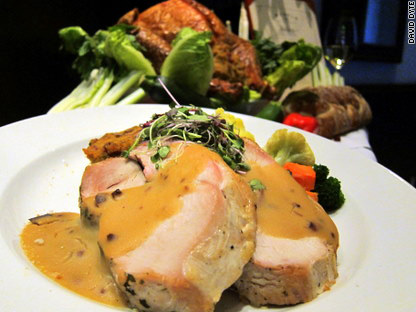 But a few places decided to get their holiday on early. Morels, a steakhouse/French bistro, deviated from its usual beef-laden menu to add in a turkey special - and started serving it at 11:30 a.m. Last year, the restaurant fielded 336 customers for Thanksgiving, according to hostess Justine. "We get a lot of walk-ins," she said.
For those who want to go in whole hog (whole bird?), there's menus like Picassco's, at the Bellagio. This year's installment omits the turkey - blasphemy! - but does include a pheasant option for those who require their annual bird sacrifice. Picasso's is roasted, and comes with pears, morels and wild rice risotto. It's part of a $150 menu that includes poached oysters garnished with Osetra caviar and a sautéed "steak" of foie gras. Plus, the restaurant notes, all tables will receive "complimentary brioche stuffing and cranberry sauce."
Seems that you can muck around with the turkey if you must, but even star chefs know not to deprive Americans of stuffing and cranberry on T-Day.
The menus …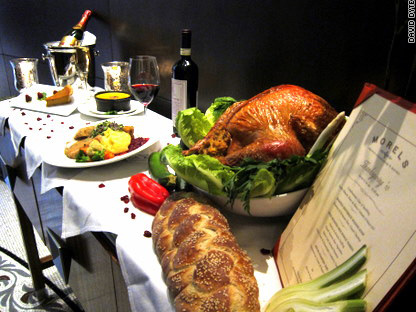 Emeril's: $18 per person for 3 slices of turkey with turkey gravy, mashed potatoes, sides of asparagus and cranberry sauce, and a "stuffing square."
Peppermill Coffee Shop: $21.95 for adults, $11.95 for children, for turkey, stuffing, mashed potatoes, gravy, mixed vegetables, rolls with butter, cranberry sauce and a choice of pumpkin or pecan pie. Coffee, tea, soda and milk included.
Morels: $65 per person for roast butternut squash soup with rosemary & parmesan flan, free-range turkey, chorizo & brioche stuffing, glazed root vegetables, Yukon gold mashed potatoes, cranberry compote, a spiced pumpkin tart and a glass of sparkling wine.
Picasso: $150 per person for four-course menu. Choices include crème of butternut squash soup with homemade amaretto-nutmeg marshmallows and duxelle of wild mushrooms; sautéed filet of black bass with saffron sauce and cauliflower mousseline; supreme roasted pheasant with pears, morels and wild rice risotto; plus dessert.